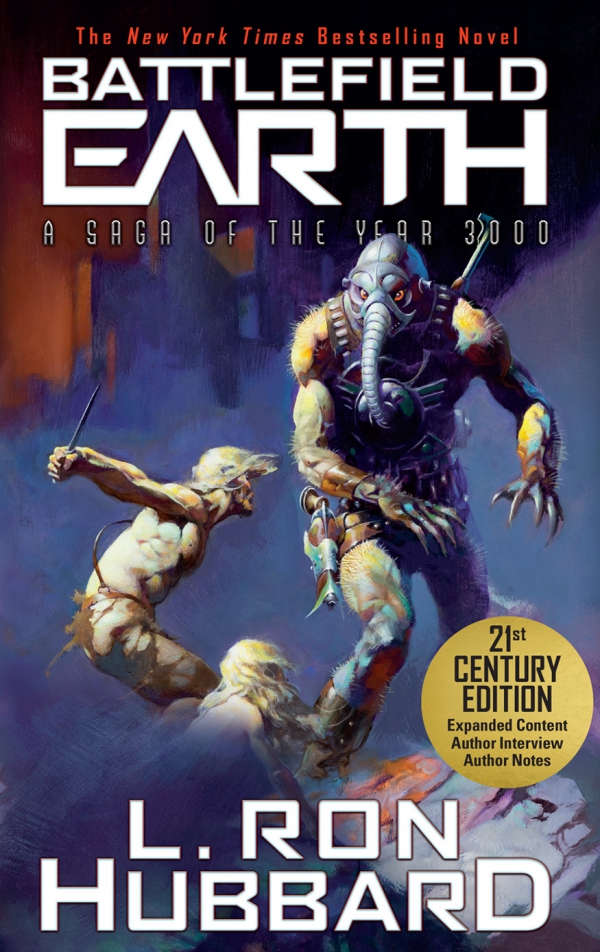 - September 1, 2016 /PressCable/ —
Galaxy Press has released L. Ron Hubbard's New York Times bestselling sci-fi novel Battlefield Earth in a new 21st Century Edition, one of the biggest science fiction books ever written. To commemorate this new edition they have just announced a unique publishing offer: a free Frank Frazetta poster of the cover art. The book is available in all major bookstores and has already topped the bestseller lists.
L. Ron Hubbard wrote this science fiction novel to celebrate his golden anniversary as a professional writer. And for a limited time, Battlefield Earth customers will receive a complimentary collectible poster of the cover art painted by the legendary Frank Frazetta, who Mr. Hubbard called the "King of Illustrators."
Commissioned by L. Ron Hubbard, Frazetta's painting depicts the epic struggle between humanity and unknown alien races. His art now graces the cover of this new edition—a dramatic celebration of the book's rerelease.
Galaxy Press is taking this offer very seriously with their high quality 4-color, full- size 24 x 36-inch reproduction of Frank Frazetta's painting. Each poster is shipped in a sturdy tube, so it is suitable for framing for those Frank Frazetta and science fiction fans taking advantage of this offer. Anyone can go to FreePosterOffer to redeem this offer.
Battlefield Earth embraces mankind's triumph against extreme adversity. In Mr. Hubbard's own words, "I wrote Battlefield Earth for those who enjoy adventure, the will to survive and the basic spirit of the individual against impossible odds."
Mr. Hubbard stated in the book's introduction, "I'm very proud of also being known as a science fiction writer. You have satellites out there, man has walked on the moon, you have probes going to the planets, don't you? Somebody had to dream the dream, and a lot of somebodies like those great writers of The Golden Age and later had to get an awful lot of people interested in it to make it true."
With 19 New York Times bestsellers and more than 350 million copies of his works in circulation, L. Ron Hubbard is among the most acclaimed and widely read authors of our time.
Those interested in learning more about the book or to get the free sci-fi poster can visit here: https://www.amazon.com/Battlefield-Earth
Release ID: 130447