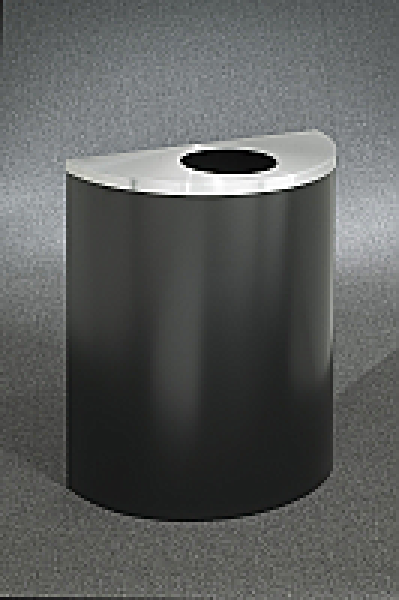 - November 17, 2014 /PressCable/ —
Futurekits  Inc is including in its trash receptacles offering the new larger capacity Profile 24 inch wide half round extra capacity waste receptacles.
These trash receptacles are available now to apply to any venu.e. They combine extreme functionality and beautiful design.
Profile 24 inch wide Half Round Trash Receptacles are the latest in this American manufacturer's all metal waste receptacles. The appealing feature of the Profile is the ability to place it up against the wall or desk. It actually saves space. The half round profile design makes it perfect for small areas and high traffic walk ways.
The Profile 24 inch has an inner steel liner that has a 29 gallon capacity with an open lid for easy disposal of waste material. It stands 28 and a half inches tall and extends 12 inches from the wall. This receptacle is available in a variety of models. Flat closed hinge top with a side opening is a clean appearance and holds 14 gallons of waste disposal material.
Like most of the trash receptacles that Futurekits offers, the Profile 24 inch half round trash receptacles are available in RecyclePro models also. RecyclePro Profile 24 inch Half Round Recycling Receptacles are an exceptional choice for organizing business' recycle program. They are available in single and double stream. The single stream includes one 29 gallons capacity metal liner. The double stream includes two 14 gallon capacity metal liners. Included with the RecyclePro models are fully hinged aluminum top with different openings for each type of item to be recycled. All RecyclePro models include a silk screened message and/or recycling logo permanently baked on to each unit.
Futurekits sales manager Vera Roberts says, "We have a huge selection of commercial trash cans and trash receptacles for indoor and outdoor settings. By offering a variety of trash containers, along with product images and highly detailed product descriptions, we are sure you will find the right receptacle for your waste management needs".
For more information about Profile 24 inch Half Round Trash Receptacles and Futurekits, please visit www.futurekits.com.
Release ID: 66313