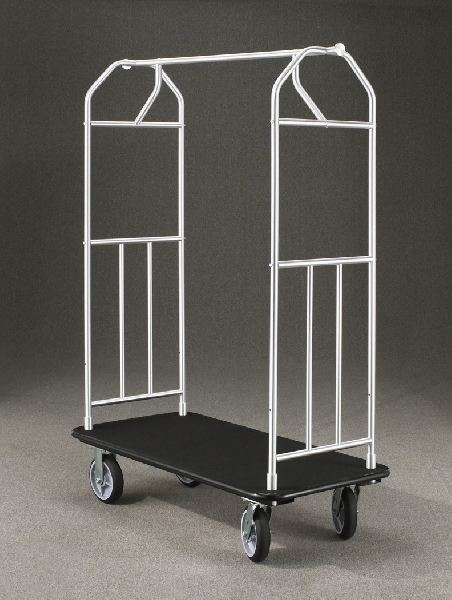 - November 20, 2014 /PressCable/ —
November and December are often considered the busiest travelmonths in the year. With travel rates increasing, so are hotel occupancies.Futurekits is featuring the Glaro 6140 Value Bellman Cart. These carts are perfect for thehospitality and tourism industries. Establishments that offer lodging strive toshow extensive concern for guest's comfort. While the 6140 Value Bellman Cartis inexpensive it is not a cheap bellman carts. It is economical and efficient, the unit meets high quality standards, made withexpert engineering.
The 6140 Value Bellman Carts is customizable, providing optionalcolor choices for the upright cage, the carpet and the wheels and rubber bumper. The carts are available in satinaluminum, satin brass and powder coat designer finishes, The manufacturer boasts "…the finishes never need buffing orscrubbing, and the finish will never dull". The units have great maneuverability and are ableto endure up to 1200 pounds of weight, The hard rubber wheels are noise proof, quiet when transporting luggage.
The Glaro 6140 Value Bellman Cart is roughly 40 inchesin length, 71 inches in height, 25 inches in width, and weighs 76 lbs. The units comewith 4 hard rubber wheels but containment rails are optional. It does require minor assembly. The 6140 Value Bellman Cart is built with the same chassis, deck, and quality casters as Glaro's Premium and Deluxe Bellman Carts. This economical, handsome cart weighs less, has a 1 inch diameter satin polished frame,and is equipped with two machined solid aluminum disc hooks that are satin polished by hand. Three carefully selected cart lengths make it easy to choose a size that is right for every property. 
Even though these carts are economical, the 6100 Series Value Bellman Carts boast: 4 and 6 wheel models, 35 inch 40 inch, and 48 inch lengths, satin aluminum, tarnish-proof satin brass, more than 29 powder coat finishes, up to 1300 pound weight capacity, solid rubber wheels, durable steel chassis, all-weather engineering, non-marking bumper, 2 extra disc style hooks. Made the the USA, ships within 5 days.
Futurekits is offering these economical and attractive 6140 Value Bellman Carts along with many other hospitality products for businesses. for more information on these carts and Futurekits Inc visit www.futurekits.com
Release ID: 68698