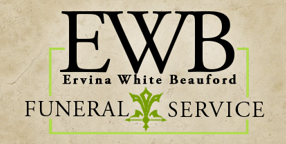 - August 26, 2017 /PressCable/ —
The compassionate funeral directors of Ervina White Beauford Funeral Service encourage those of Pottstown, PA to pre-arrange their funerals to receive the amazing benefits that pre planning provides. A pre-need funeral is well-planned, meaningful, customized and much more affordable than one that is arranged on an at-need basis. One has the opportunity to decide now, while in a calm and rational state of mind, the location of their funeral home, whether they will be interred or cremated, whether they want an open or closed casket, if there will be a visitation period prior to their funeral service, the exact type of service they will have and their casket and/or urn. They can write their own obituary and specify the person who will deliver their eulogy. The professionals of Ervina White Beauford Funeral Service are well equipped to assist people with making selections and they educate them on the payment options that are available. Please learn more by visiting http://www.ewbfunerals.com/pre-arrangements.
There is no set time at which to pre-plan a funeral, although many decide to make these arrangements when they get married, when they have a child, when they retire, when they have their will drawn up, before undergoing a serious operation, upon entering a care facility or nursing home or when their spouse passes away unexpectedly. Pre planning a funeral relieves many emotional burdens from the surviving family members. They no longer have to make deeply personal and complex decisions on the purchaser's behalf. Also, it prevents any questions, disagreements or differences among one's family related to how to memorialize one's life and handle one's physical remains. Ervina White Beauford Funeral Service promises to respect the buyer's wishes and desires exactly. They invite those of Pottstown, PA to call them at 1-610-327-4546 with any questions, concerns or comments.
By paying for one's final arrangements in advance, he or she prevents a significant financial burden from falling upon loved ones. Additionally, one's estate is not affected by funeral expenses, allowing for more of their assets and life insurance benefits to go to their intended beneficiaries.
Release ID: 233278