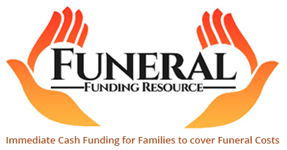 - February 8, 2017 /PressCable/ —
Families in need of financial help to fund a funeral are invited to turn to Funeral Funding Resource at http://funeralfundingresource.com. Their goal is to help families that require assistance with paying for funeral arrangements provide a dignified, memorable final tribute to a loved one who has passed away. Instead of having families forced to withdraw funds from personal savings that may be needed for other things, they provide an option that is fast, easy and financially sound. They know that a meaningful memorial will do more to help a family heal from its loss than having a ceremony or process that is severely limited by cost. Death can often come unexpectedly, and the staff at Funeral Funding Resource want each family to have an opportunity that will allow it to have the funeral it wants for its deceased even if it is not financially prepared for the expenses related to the passing.
Funeral Funding Resource has high approval rates, quick decisions and a simple application process. The staff there usually make same day decisions for the families that come to them. They are forthcoming about all information before anyone signs the agreement. The requirements are simple. First, the applicant must have a business such as a sole proprietorship, LLC or corporation. Because of the high rejection rate of those applying for personal loans, the staff at Funeral Funding Resource finds that qualifying a business is simpler, faster and more successful. Since they do not give out personal loans, there are no credit scores involved. Not only does using a business result in a higher approval rate, it also makes the loan process move much more quickly. With funeral arrangements, time is of the essence. The sooner financial issues are resolved, the better. In addition to concerns about the loved one, having the funeral take place as soon as possible helps to provide the family with a sense of closure, knowing that it sent the deceased to his or her final resting place in the appropriate manner.
If there are no business owners in the immediate family, perhaps the applicant can get assistance from an extended family member such as a sister, brother, aunt, uncle, cousin or even a friend. Asking a relative or friend to qualify their business may be preferable to asking them to give the money for the funeral outright. This business must have a business bank account and must have been in operation for a minimum of three months. The business must make at least $10,000 in gross sales per month, which is not a large amount. The only paperwork needed is a one-page application and at least three of the most current business bank statements.
If a family is in need of fast funeral funding and can meet the business requirements listed above, the staff of Funeral Funding Resource asks that it fill out the easy application form found on its website. Even if a family can afford the funeral, Funeral Funding Resource at http://funeralfundingresource.com gives it a choice that allows it to avoid spending a lump sum of cash right now and permits it to repay the cash advance over time at a reasonable interest rate due to the low principal figure. Funeral Funding Resource works with each individual family to establish a payment plan that works for it.
Release ID: 168233