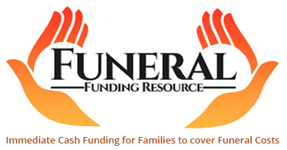 - May 25, 2017 /PressCable/ —
The staff of Funeral Funding Resource encourage families in need of a cash advance to pay for a funeral to enlist their services. Many families may not desire to use credit cards or cash savings to pay for the funeral of a loved one, and Funeral Funding Resource at http://funeralfundingresource.com/funding-for-fami… can help. Even families that can afford the end-of-life merchandise, services and facilities for a loved one may prefer to pay for them over time instead of as a lump sum. Because the principal amount borrowed is relatively low, the interest rate is quite reasonable. Aside from the simple one page application, all that is required is a business that has been in existence for three (3) months, does a minimum of $10, 000 in gross sales each month and has a business bank account. To apply, please send the form found on the above website along with four (4) months of the most current business bank account statements. When filling out the application document online, please make certain to print and sign it.
Funeral Funding Resource does not make personal loans. When credit scores are involved, making a cash advance becomes much less likely. The team at Funeral Funding Resource has found that qualifying a business is easier and faster. If no one in the immediate family owns a sole proprietorship, LLC., corporation or a similar enterprise, perhaps the assistance of another family member such as a sister, brother, aunt, uncle or cousin may be obtained. A family may also ask a friend to qualify his or her business. Asking for this may be preferable to asking for an outright financial contribution to help pay for funeral expenses.
The administrators of Funeral Funding Resource understand that timing is critical when it comes to the making of final arrangements. In addition to the concern of the physical condition of the deceased, the family is trapped in a holding pattern while it waits for the funeral service to be conducted. The family begins to heal faster and in a healthier manner after it has arranged for a fitting and meaningful tribute for the loved one. Therefore, once a family has met the requirements described above, the staff at Funeral Funding Resource makes every effort to provide the money requested as quickly as possible. Typically, the funds are available to the family within 24 hours of the application process and the subsequent approval. For the convenience of the recipients, the money may be received in the form of cash, check or through a wire transfer.
Release ID: 202858