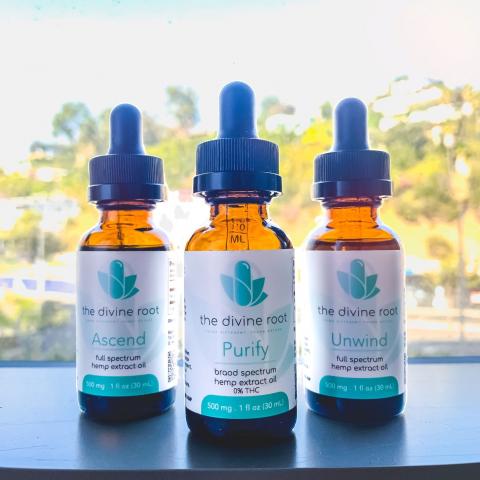 - November 19, 2020 /PressCable/ —
A cannabidiol (CBD) company in Fort Lauderdale has introduced a range of products formulated to provide the full spectrum of therapeutic effects of cannabis.
More information is available at https://www.thedivineroot.com along with a 25% off first time buyer coupon!
The Divine Root is offering customers an opportunity to experience the beneficial "entourage effect" of multiple cannabis compounds that are believed to help maximize the therapeutic effects of CBD.
According to the company, this is made possible through its proprietary blend of terpenes, an aromatic compound found in hemp, which results in tinctures with high levels of bioavailability and enhanced physiological benefits.
The company offers three types of tinctures: two full-spectrum products and a broad-spectrum variant, which does not contain THC. The full-spectrum Ascend was formulated for morning to afternoon use, while Unwind is ideal as a nightcap owing to its Indica strain terpenes.
Purify, its brand of broad-spectrum THC-free tincture, has a fruity and floral aroma due to its hybrid strain terpenes and is ideal for relaxation any time of the day.
Each 30-ml bottle contains 500 mg of CBD, among various other cannabinoids and terpenes, and retails for $39.99 a piece. More information about their products can be accessed at https://www.thedivineroot.com/product-category/tincture
The Divine Root is setting itself apart through products that are optimized to bring out the entourage effect of cannabis. This effect refers to the way cannabis components like CBD, other cannabinoids and terpenes work in synergy to produce a stronger influence than any one component alone.
This effect is also believed to have an influence on the body's endocannabinoid system, a network of lipids in the body responsible for a number of cognitive processes and the promotion of optimal wellbeing or homeostasis.
This system possesses numerous cannabinoid receptors that interact and bind with cannabinoid compounds, producing a range of beneficial mental and physiological effects.
A company spokesperson said that the CBD, terpenes, and cannabinoids in their products can help bring the body as close to a state of homeostasis as possible. "This means that all the bodily systems will be working synergistically with each other on a cellular level, which in turn will make one happier and healthier."
Furthermore, its terpene formulation allows for the creation of truly all-natural products that are free of additives. According to the company, it utilizes every piece of the hemp plant to create the desired beneficial effects and flavors instead of adding potentially harmful chemicals.
Full details about the company's products can be found at https://www.thedivineroot.com/shop or at the URLs above.
Release ID: 88986340