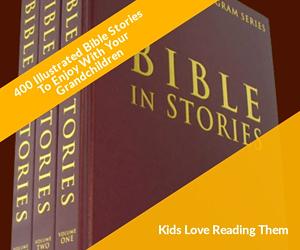 - December 29, 2020 /PressCable/ —
Bible in Stories, a division of Score, LLC announced the release of a full-color anthology of Bible stories in pictures for children and adults. The anthology is part of the Family Growth Program Series of home Bible study resources and is available in three volumes.
More information about Bible in Stories is available at https://usa.bibleinstories.net/bis
Score, LLC has released the illustrated Bible stories compilation for children as a tool to help everyone in the family find, understand, remember, and apply lessons from the Bible. The stories are taken from the King James Version, one of the oldest and most textually reliable versions ever printed.
The Bible in Stories collection features more than 400 Bible stories supported by more than 1,500 illustrations that bring the stories to life. All stories are accompanied by more than 1,400 review and application questions and interspersed with 39 popular Christian hymns complete with full sheet music.
The anthology is bound in rich Skivertex—next in quality to genuine leather—with Smyth sewn binding. Bible in Stories is printed on high-quality 100lb matte art paper, making it more durable and resistant to folds and wear.
Bible in Stories presents stories from the Old Testament and New Testament, arranged to match the scriptural order from Genesis to Revelation. The books feature large, easy-to-read print and are a devotional tool, presenting the Gospel at the commencement of each book.
Each story from the Bible is cross-referenced and indexed for easy access. The topical index covers practical living topics including lying, peer pressure, the use of technology, and decision-making.
Bible in Stories is a daily family devotional and a personal review resource that provides an engaging illustrated overview of the Bible for children, youth, adults, and seniors. The collection has been endorsed by several Christian preachers, teachers, evangelists, educators, and pastors.
According to a spokesperson for Score, LLC, "Bible in Stories is a great learning tool that doubles as a ready reference and family devotion tool. It's a great way to remember Bible stories and learn how they apply to daily life."
More details about the Bible in Stories project are available at the URL above.
Release ID: 88991653