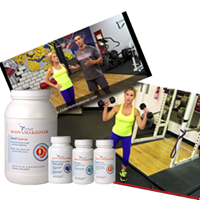 - November 1, 2020 /PressCable/ —
Celebrity fitness expert George DiGianni has relaunched his 21-Day Full Body Cleanse. The program aims at strengthening the immune system to stave off illnesses like the common cold and flu.
More information can be found at https://www.21daybodymakeover.com/body-cleanse
Along with boosting the immune system, the recently relaunched Detoxifying Cleanse program was designed to aid in fat loss and assist all organs and glands to work at their optimal levels. It comes with a combination of exercise videos, healthy delicious nutritious recipes, and guidance eBooks.
Having a strong immune system is important, especially during the upcoming holiday seasons when the cold and flu become rampant. Added to this, a strong immune system has been found to help minimize symptoms associated with the current pandemic disease.
There are many contributors to a weakened immune system. Some of these include trapped toxins from vehicle emissions, stress, and the environment, which leads to inflammation.
Other contributors to a weakened immune system are retiring to bed late, eating processed foods, and juggling multiple stressful tasks at once. These are all means through which the body stores toxins, which in turn may be slowing the liver down.
The toxins once absorbed clog up the body's cells, cause inflammation that leads to diseases, and block the absorption of good nutrients. As a consequence, healthy diets and the consumption of vitamins or minerals are futile since the toxins block them from working.
It is believed that too many toxins in the body not only affects the immune system but lowers productivity and increases the risk of contracting diseases. Other indicators of a toxin-filled body are headaches, constipation, adult hormonal acne, and constant fatigue.
For these toxins to be removed from the body, detox is necessary. Hence the introduction of the Full Body Cleanse and Detox program.
The program comprises whole foods-based supplements that the body recognizes and utilizes. These supplements, which are all organic, include Bio-gest, Green Tea Phytosome, Liver Cleanse, Medi Clear SGS, and a post-cleanse shake.
"It takes 21 days to break a habit, and 66 days to establish new ones. By completing our 21-day program, you'd be free of the habits that brought you problems in the first place, and you'd be well on your way to developing healthy ones," DiGianni said.
Interested parties can click on the link above or visit https://www.21daybodymakeover.com to find out more.
Release ID: 88979397