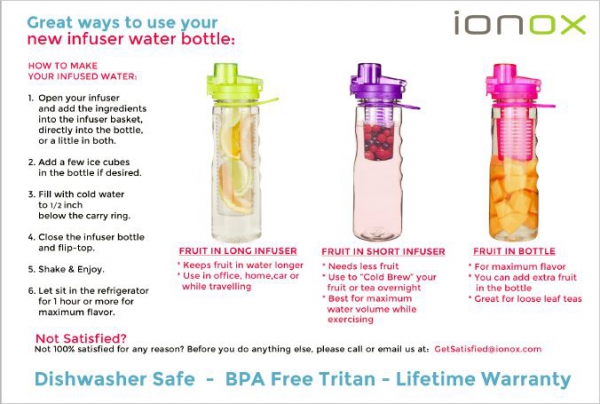 - December 14, 2016 /PressCable/ —
Consumers have reported that the infused water bottle with fruit infuser, available at https://www.amazon.com/Infuser-Flip-top-BPA-Free-Multiple-Infused/dp/B00NAL3BP2 has helped them drink more water. The Ionox teams understands that drinking plain water can be quite boring, which is why the Ionox infuser water bottle was created.
"The Ionox brand prides itself on producing innovative products that will benefit children and adults," Chloe Joy, Ionox spokesperson states. "When we developed the water bottle with fruit infuser we knew that it was a winning product because it allows customers to customize the flavor of their water. Not only does water become tastier, but it also gets added nutrients this way as well."
One customer who uses the Ionox Tritan water bottle states that, "I hate drinking plain old water but I know it's necessary for good health, so I decided to try this new infused water bottle trend. And I love it! I've tried other brands but this one rocks! I love the finger carrier & lock option for the spout." Another says that, "I wish I could post you a picture, but my daughter has not let go of this bottle except to demand I wash it. So far she has infused grapes, strawberries, tea bags and blueberries. She, of course, is thrilled that it's purple. I'm happy because she's drinking more water. Her love of fruit is playing into my desire for her to maintain hydration."
Currently the Ionox infuser water bottle has a majority of 5-star reviews on Amazon. The product is available in five fashionable colors — pink, purple, blue, green and turquoise. Some consumers have even purchased multiples to fit their daily lives better, "My daughter convinced me to buy a couple of these and we liked them so much I bought two more for the other two members of our family. My only complaint is that it's too small. I'd like to have a bigger version to hold more water. We've put so many different kinds of things in the infuser….lemons and oranges, cucumbers and mint, watermelon and mint, and much more and it's all so good. I highly recommend this!"
Click here to purchase the BPA-free water bottle and to see additional customer images or reviews.
Release ID: 153827