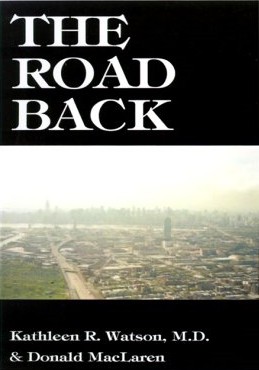 - September 15, 2016 /PressCable/ —
Dr. Kathleen R. Watson is a rehabilitation physician and PhD. She has been practicing medicine for 20 years, but is now retired. The website www.kathleenwatsonmd.org showcases Dr. Watson's book and her journey to finding recovery after her traumatic brain injury accident. With Dr. Watson's professional experience and traumatic brain injury accident, she created "The Road Back. "The production of 'The Road Back' was my anti-depressant. I talked about my difficulties, but needed help with my language."
The "Road Back" details Dr. Kathleen R. Watson's personal successes and failures as a rehab patient who had to find a way to be self-sufficient again. She explains how she had to find her routine again and find her vehicle for recovery.
She was hospitalized for 246 days (8 months, 2 days) from January 30th 1996 to October 1996. When Dr. Watson got home she took to walking and increased the time she spent in her garden.
Dr. Watson is a regular face at conferences and speeches about Traumatic Brain Injuries. She was even on "The Many Faces of Traumatic Brain Injury" from the Brain Injury Research Centre of the Mount Sinai School of Medicine, where she and other rehabilitation patients describe living with a traumatic brain injury from their perspective.
Physically, Dr. Watson finds she is now able to continue her walks and be outside in the garden for much longer periods than before. Her cognitive rehabilitation took time, but it is with a lot of effort that she pushes her limits professionally and physically.
"Find a helping hand," she says. Look to your friends, family, and local services to help you move forward. "You have to be open to help," to succeed. Dr. Watson wrote "The Road Back" as a positive solution for survivors in similar situations. The book will help you "make positive steps in the right direction."
Release ID: 132737