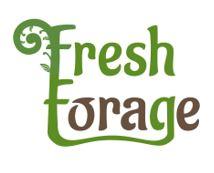 - August 30, 2018 /PressCable/ —
Envision seasonal delights with local décor. Think fresh smells and crisp tastes. Welcome to Fresh Forage, located off Jackson Road on the west side of Ann Arbor. The brainchild of local partners Andrew Sereno and Chef Samuel Boyce, this restaurant capitalizes on regional knowledge and dynamic food options. Chef Boyce will be offering farm-to-table fast casual options that will be defined by local seasonal harvests – often from their own farm.
Inside, the décor aesthetic and environment are designed around the idea of efficiency and local sustainability. Wood, milled by the owner's father, is used for the kiosk, wood panel on the counter, and planter boxes – all from their own farm. Local art from Chelsea artists Lindsay Dahl and John Zink dots the walls. Older light fixtures have been replaced with energy efficient LED bulbs, and LED TV's are used to present updated menus to limit paper waste. As for sustainability, they use 100% compostable utensils and tableware – achieving zero post-consumer waste. Trash cans don't even exist in this establishment! In addition to the limited waste from this, there also is a limited need for chemicals and wastewater to wash dishes.
The menu directly corresponds with the name; the Chef builds the items by foraging through local options, including wild-foraged mushrooms and native plants on the farm. With its ever-evolving nature, this menu will be more likened to a Picasso -abstract yet stunning- will change with the seasons and fluidly mix with the local flairs. With all of this in mind, it's hard to define a category for Fresh Forage besides their slogan itself, "Farm to Table, Fast!" They offer quick service local Farm-to-Table ingredients to craft your own bowl, including vegan and vegetarian options, as well as pasture-raised, grass-fed, ethically sourced local meat options. Everything offered is defined by seasonal availability. Along with the food, there will be specialty kombucha and coffee nitrogen drafts offered, as well as specialty drinks like "Farm Veggie Juice" and "Sumac Lemonade".
For more info stop by: https://www.freshforage.com/
Release ID: 400313