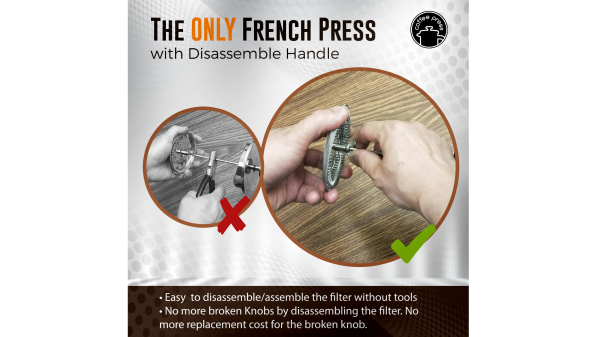 Los Angeles, United States - January 20, 2023 /PressCable/ —
Their new stainless steel French Press has been designed specifically with the ease of users and coffee fans in mind. As such, SYL Prosper Inc.'s revolutionary coffee maker features a new easy disassemble design.
More information is available at https://www.amazon.com/coffee-press-Stainless-Disassemble-Resistant/dp/B0B6KLVWF1?maas=maas_adg_334405100C816A658E536EBA58E13062_afap_abs&ref_=aa_maas&tag=maas
The retailer has called this winged nut patent design the EzDtach, and it comes in response to what the brand feels is the most common complaint amongst French Press drinkers, that the plunger is difficult to disassemble. In the brand's extensive market research, they found that this issue made the portable brewers more difficult to clean and more likely to break, even when they are still new.
SYL Prosper Inc. is also proud to be retailing their new luxurious French Press at a time when Americans are more coffee obsessed than ever. As the latest figures from the National Coffee Association (NCA) reveal, coffee consumption has risen by 5% in the US with an all-time high of 7 in 10 Americans now drinking coffee regularly, with the average drinker having three cups per day.
While the US loves barista brews, the figures reflect that most of this coffee drinking occurs at home. As such, for any three-cup-per-day drinker, and for those who consume more, SYL Prosper Inc. knows that—alongside taste—ease and efficiency are imperative.
In addition to their easy disassemble design, the brand's new French Press also boasts heat-resistant borosilicate glass to keep a pot of coffee piping hot for longer. Because SYL Prosper Inc.'s French Press is crafted in stainless steel, this also makes it durable and rust-proof.
The retailer has also included an innovative double filter in their new design, in order to guarantee their customers a silky smooth, granule-free brew.
SYL Prosper Inc.'s new French Press is now available on Amazon and can be shipped across the United States.
A spokesperson for the homewares and lifestyle goods retailer said, "This portable brewer is perfect for any coffee fanatic. Our double-screen filters guarantee a smooth, delicious cup of coffee or tea every time. Indulge in the morning coffee ritual and love every sip of your hand-pressed java. Our EzDtach winged nut design also makes this French Press easy to use."
More details can be found at https://www.amazon.com/coffee-press-Stainless-Disassemble-Resistant/dp/B0B6KLVWF1?maas=maas_adg_334405100C816A658E536EBA58E13062_afap_abs&ref_=aa_maas&tag=maas
Contact Info:
Name: James
Email: Send Email
Organization: SYL Prosper Inc.
Address: 5670 Wilshire Boulevard, Los Angeles, CA 90036, United States
Website: https://www.coffeepressshop.com/

Release ID: 89088738