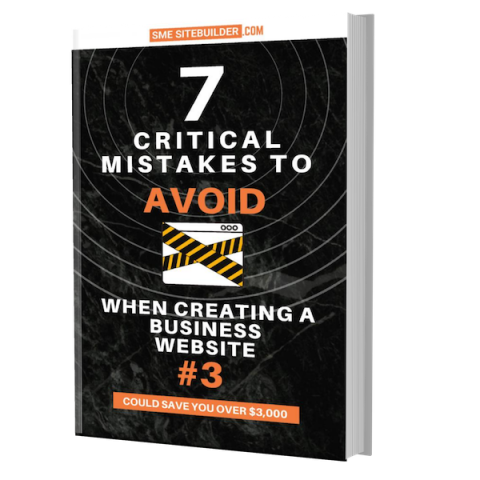 - August 19, 2019 /PressCable/ —
SME Sitebuilder just made available free report exposing the insider secrets why a website is no longer enough to get customers. Titled: "7 Critical Mistakes To Avoid When Creating a Business Website". It reveals why agencies see most small businesses as a big payday and what business owners can do about it.
The report has two key objectives, written mostly to be relevant to business owners or entrepreneurs, though it will also prove very useful and informative to many others, really anyone frustrated with not getting leads or sales from their website.
The report's primary objective is to reveal 7 money burning website mistakes that will save business owners thousands. Roger Chappel, author of the report and Founder of SME Sitebuilder, explains that it will give valuable information to the reader and will ultimately benefit them by showing business owners how to create a 'System' that takes people from "Just Browsing" to "Shut up and Take My Money" by adding pure value to their lives.
Roger also states that the report was written with business owners or entrepreneurs largely in mind, because "we were tired of seeing a large percentage of small businesses fail within their first 2 years.."
After running a digital marketing agency before launching SME Sitebuilder and working closely with small and local business owners for 10 years, Roger has gained a particular insights into the Small and Local Businesses market.
So Roger is now dedicated to establishing SME Sitebuilder as a pillar for creating an online presence for any small business. Becoming synonymous with showing businesses how to put their customers first, building rapport and authority by adopting a "value first" approach..
SME Sitebuilders unique position within its industry gives it an authority to produce a reliable report which reveals the fatal truth that no website designer will ever tell a business owner.
When asked about why SME Sitebuilder released the report at this time, he said: "I have made it my life's purpose to figure out the best way to equip business owners with the knowledge, understanding, and tools to stack the odds in their favor. Business owners can easily become the "marketers" in their business and build a website ecosystem which makes sales or generate leads on autopilot without being held ransom by "techies". This report is their battle plan for building that ecosystem! ."
Get your copy of the free report right here:
https://smesitebuilder.com/free-ebook/report
More information on SME Sitebuilder can be found at https://smesitebuilder.com
Release ID: 88908955