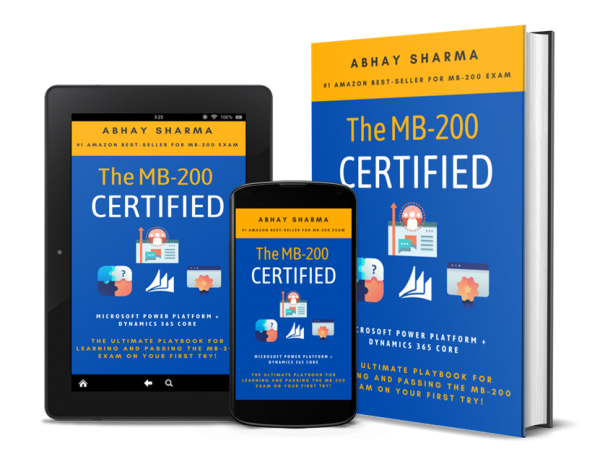 - July 31, 2020 /PressCable/ —
Learn MS Dynamics has today released a FREE Book titled: "The MB-200 Certified: The Ultimate Playbook For Learning and Passing the MB-200 Exam On Your First Try!".
The MB-200 exam is Microsoft Power Platform + Dynamics 365 Core. This book aims to cover and teach all the topics in the MB-200 Exam Curriculum. It also aims to show how to stay focused to learn and pass the MB-200 exam.
The book has been made openly available and at no cost by Learn MS Dynamics. It's available to the general public, consultants, and aspirants within the Microsoft Dynamics 365 market and anyone with interest in Passing the MB-200 Exam.
The book was also written with a specific focus on Microsoft Dynamics Consultants/Microsoft Dynamics Aspirants/Business Owners since Abhay Sharma (Learn MS Dynamics), author of the book, believes: "In a market, this fast-paced where Microsoft Dynamics 365 is evolving rapidly, it's critical to have the most current information. We felt this book would make things a lot easier for Microsoft Dynamics consultants or Microsoft Dynamics aspirants to prepare and pass the MB-200 exam on their first try!."
When asked about why they released the book at this time, Abhay Sharma, Founder at Learn MS Dynamics said:
"Most of the consultants are failing the MB-200 exam because there was no step by step approach to prepare and pass the exam. The technology is changing rapidly, and it can be difficult for a consultant to prepare for the exam along with projects they are working on. It wasn't easy until we launched the MB-200 Certified Book, which has helped hundreds of learners around the world and became #1 Amazon best-seller for preparing and passing the MB-200 exam. We want every consultant to have this book for free, so they can start or continue their certification journey to boost career growth!."
Interested parties can find the book ready to download, for free, at https://learnmsdynamics.com
Learn MS Dynamics (previously Online CRM Training) was founded in 2015 and is an innovative approach to not just pass exams but also learn Microsoft Dynamics 365 to help in their jobs. Within the Microsoft Dynamics 365 industry, it is best known for providing a wide range of learning options like Books, Videos, Audios, and Practice tests at the most reasonable prices and lifetime access to all the resources (that are updated regularly).
Its unique position within its industry that gives it the authority to produce such a book on passing the MB-200 Exam. At Learn MS Dynamics, instructors have spent thousands of hours in understanding the learning requirements and, after teaching more than 100,000 students worldwide, created a certification preparation approach that has helped thousands of students worldwide. Learn MS Dynamics is constantly looking at ways to improve learners' experience and help them do better at their job/business.
For example, as the book aims to teach all the topics in the MB-200 exam curriculum, it gives valuable information to the reader that will ultimately benefit them by teaching them all the topics of the MB-200 exam (even those that are not included in the exam curriculum). So they can pass the MB-200 exam and continue their journey of becoming Functional or Developer Consultant Associate.
This insight simply wouldn't be possible, or their advice nearly as effective, without the five years spent in the Microsoft Dynamics 365 teaching world and more than a decade experience in implementing Microsoft Dynamics business solutions.
More information on Learn MS Dynamics can be found at https://learnmsdynamics.com
The FREE Book " The MB-200 Certified: The Ultimate Playbook For Learning and Passing the MB-200 Exam On Your First Try (Microsoft Power Platform + Dynamics 365 Core)" can be downloaded at https://learnmsdynamics.com
Release ID: 88970801