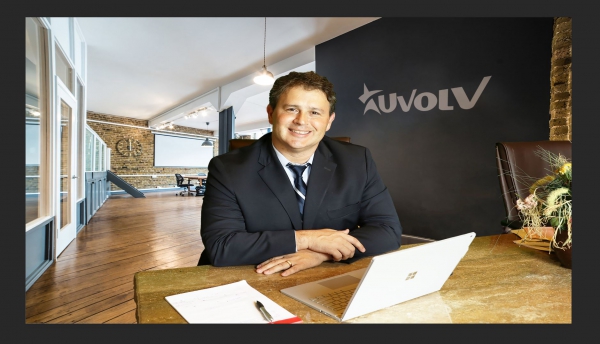 - August 25, 2017 /PressCable/ —
UVOLV Believes in the power of extracurricular activities - a discussion with Founder Frank Emsick
Young children frequently ask their parents "watch me dad/mom"! Often this is when they have achieved a key milestone for them. It could simply be bouncing on the bed without falling, a picture they have drawn or an athletic skill they have mastered. The drive to achieve blossoms when knowing that they've grown or improved and they are motivated by knowing that someone who is important to them knows about it. Simply put, it just feels good to know that they have gotten better and want to tell someone else about it.
Uvolv Appreciates Everyone Involved in Helping Youth
For most, the desire to be watched never really leaves but most stop asking. Somewhere in the transition from childhood to adolescence, they become more "sophisticated", it's just not "cool" to ask. However, the need to feel valued, admired and appreciated is a central to our sense of well-being and EVERYONE (especially parents, coaches, friends, siblings, classmates, teachers) hold responsibility for development of the people their lives touch.
School, athletics, dance, music, theater, etc., provide a wonderful venue in which measurable milestones can be observed and celebrated. Frank Emsick, founder of Uvolv, believes school work and learning should be at the top of the list and wise parents/guardians make it so. Unfortunately, it is difficult to measure learning on a day to day basis. A word of caution here is to make certain the emphasis is on what is learned/achieved, or shall say "improved", rather than fixing mistakes. Of course, mistakes must be fixed but to focus only on them makes any interaction a drudgery. On the other hand, it is critical to focus on and celebrate successes. This will minimize the pain caused by errors and encourage improved achievement.
Winning Really isn't Everything, Participation is!
Extracurricular activities including clubs that have a specific focus; foreign languages, athletics, music, theater, etc., all provide incredible opportunities for individuals to develop their unique talents. However, in sports for instance, if winning or starting on varsity is the only milestone being tracked and recognized, then a tough and likely losing battle is ahead of the child. Suggesting, "winning is not important" is simply not true because it is and if it was not so difficult the activity would likely lose luster. The point made at Uvolv is that most get there "inch by inch" and by tracking progress and seeing growth. It is invigorating and engages the individual to try to do more.
A major benefit of student participation in non-classroom activities is that students get more exposure to other forms of learning. This creates more intimate opportunities to contribute positively to the growth of the student. The wise parent/coach will take care to always take steps to shield the student from over emphasis on negative issues and events. They have a special sense of clarity about the student's talents and goals and effectively communicate them to those with vested interest in the individual or activity.
What Does Improvement Look Like?
Think of growth this way. It is human to get more of what some individual focuses on. Successful people tend to focus on what they believe they "can do well". Less successful people tend to focus on fixing mistakes. Yes, there is a tendency to get more of what is expected. Parents, coaches, directors, etc. should not ignoring mistakes, they must be corrected but, when focus is only on the mistakes, it's like taking a hammer to the proverbial piggy bank which the student has over time filled penny by penny. This is so destructive and when the thrill is gone the fire is hard or impossible to light again. Frank Emsick, founder of Uvolv, says, "there should be 5-7 positive reinforcements to every mistake redirection. It is the hope that parents learn from our site that focusing on the mistakes is simply taking the easy way out because there are almost always so many positives. It is important to know the student/child as well – it is necessary to understand that some are more open to criticism than others."
Think of the above-mentioned points as keys to greatness in development. If excellence is to be achieved the focus must focus primarily on personal strengths and non-strengths should only be emphasized when they interfere with a strength.
Keeping Children Involved is Most Important for Their Development
Extracurricular activities enrich lives because through participation students become more effective at making important things happen for themselves and the people's lives they touch. Involvement in activities ensures that the academic knowledge and technical skills acquired in school are optimized through individuals such as coaches, teammates, directors and parents. Good communicators, team builders, community leaders have experiences to share as technical experts and professionals who can dramatically help in the development of all youth. Check Uvolv out at http://www.uvolv.com/.
Release ID: 233085