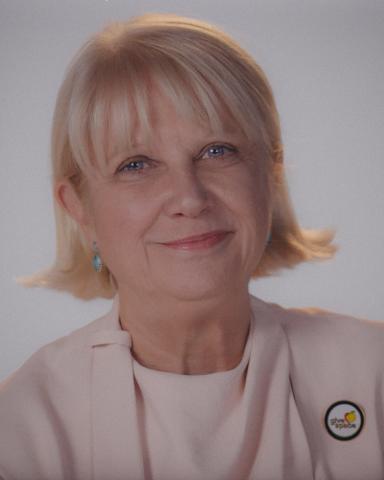 - June 4, 2020 /PressCable/ —
As the nation prepares to return to our "new normal," businesses are trying to figure out how they are going to keep their patrons and staffs healthy when they resume gathering together in confined spaces. One key to those plans is reminding the public to continue social distancing. That's why the woman who created the modern personal space movement years before COVID-19 ever existed is lending a helping hand.
Carol Winner MPH, MSE, who has enjoyed a 30-year career as a public health specialist, is now licensing her "give space" rights to any business that wants its patrons and staff to maintain social distancing. So far, restaurants and hospitals have lined up to secure "give space" licensing rights so that they can display the colorful logo and messaging in strategic areas. The "give space" licensing rights also enables businesses to create their own line of merchandise like T-shirts, pins, baseball caps and the like to reinforce the messaging.
Winner says that participating businesses will be promoted on the GiveSpacePeach.com website by industry. There, the public may look up which businesses in their areas are participating in the social distancing program.
Restaurateurs Patrick & Joanne Quillec, owners of two of Kansas City's most critically acclaimed dining establishments, Cafe Provence and Verbena, both of which are on Open Table's Top 100 restaurants, have purchased the licensing rights and plan on discreetly displaying "give space" signage indoors.
"Our patrons are our lifeblood and many of them are like family to us, so displaying the 'give space' messaging campaign is a no-brainer for us," said Patrick Quillec.
Deede Liu of Berman Skin Institute in San Francisco adds, "Give space is helping us to facilitate social distancing within our dermatology medical practice to protect our patients and our staff."
Winner, who worked with the CDC, NIH and other institutions, launched her company, for the Love of Peach, in 2017 after her mom was recovering from cancer.
"Doctors told her not to hug or kiss friends and relatives because the germs might be passed on to her," she recalls. "But my mom was a hugger and found it uncomfortable to communicate that. The repeated physical contact was making her increasingly sick. Her experience combined with seeing my ailing friends suffering post-operatively due to hugging are what got me thinking about how to address this issue. The kind 'give space' message coupled with the peach symbol has proved to be a solution – it works."
Winner says that prior to COVID-19, "give space" was helping those with breast cancer and autoimmune diseases; developmental disorders like autism and physical disabilities; trauma; cultural sensitivities; and a myriad of other reasons.
In addition to running her company, Winner is the author of an interactive book, "What Do I Do With My Hugs?," to help children understand the importance of personal space.
For more information, visit GiveSpacePeach.com or reach Winner directly at 301-335-7314.
*****
Release ID: 88960577