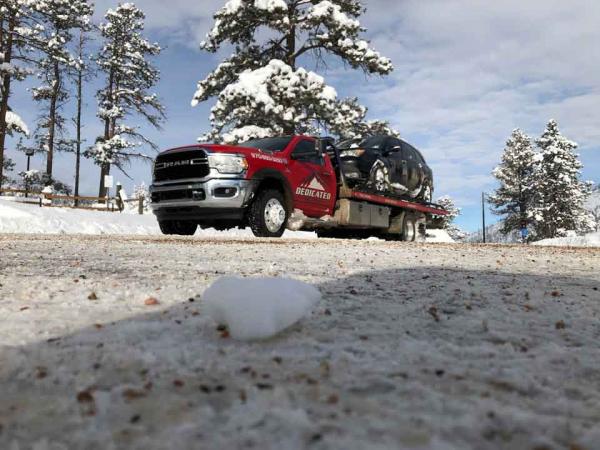 - July 27, 2021 /PressCable/ —
Fort Collins, CO – Getting stuck on the side of the road without gas, locking yourself out of your car, flat tires, dead battery -roadside mishaps are always a pain. But in any situation you might have, Dedicated Towing & Recovery can handle it. The Fort Collins towing company bills itself as a full-service roadside assistance business, able to help with a variety of problems. They'll even do off-road recovery and toolbox relocation. Now, this Fort Collins business is ready to take their services to the rest of Northern Colorado, covering Berthoud, Greeley, Johnstown, Longmont, Loveland, Severance, Windsor, Cheyenne, Laramie, and surrounding areas.
Dedicated Towing and Recovery is owned by Heather Schlegel and operates as a family business. They started the company to offer effective, friendly, and affordable roadside assistance and towing services that emphasize the customer experience.
"Dedicated Towing and Recovery is dedicated to putting our customers first and staying true to our mission. We are committed to providing second-to-none customer service," states a company representative. The towing company wants to be top-of-mind when customers have roadside emergencies, and so has used a customer-centric model to provide hassle-free experiences. The folks at Dedicated Towing and Recovery know how frustrating it is to get a flat tire, get locked out of a vehicle, or have another malfunction on a busy road. Their goal is always to make the situation as stress-free as possible.
"One of our cars broke down yesterday on a country road outside of Longmont. Kevin from Dedicated Towing arrived within 15 minutes," one customer describes. Another mentions the company's professionalism, saying,
"We were literally stranded in the cold, pouring rain and snow with a dead battery and no cables. Called another company but when they arrived, they had no cables to jump us. Dedicated came to our rescue and had our car running in under 2 minutes."
The technicians at Dedicated Towing and Recovery are able to respond to customer calls so quickly thanks to their Rapid Response Dispatch System. It allows the company to get a customer an accurate quote on their required service and dispatch a team member to their location in a short amount of time. The Dispatch System also helps the Dedicated Towing and Recovery offer 24/7 emergency service – because roadside mishaps are never planned.
This Northern Colorado towing company truly does go the extra mile for customers by offering long-distance towing, a service that's not as common among Fort Collins tow companies. They can take you anywhere in Northern Colorado, or from one end of the state to the other. They've even set up long-distance towing for customers in neighboring states.
The staff at this regional towing company love to help people out of tough situations – that's what keeps their business running.
Dedicated Towing and Recovery is located at 1617 ½ E Mulberry St in Fort Collins, CO, 80524. You can contact them anytime via phone at (970) 893-3297 or send them an email. They'll also respond quickly to any website inquiries you submit through the contact form on their website. For more information about the company and its services, visit their website at https://dedicatedtowingandrecovery.com/
Release ID: 89038803