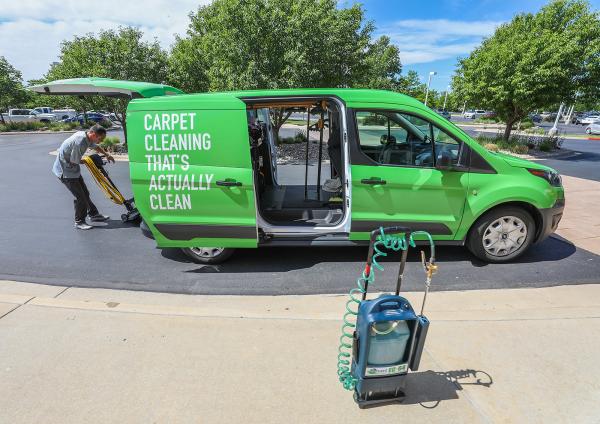 - September 11, 2020 /PressCable/ —
Smart Carpet Cleaning has announced the expansion of its services to the Fort Collins, Timnath, Loveland, and Greeley communities of Colorado. The company specializes in carpet cleaning for residential, commercial, hospital service buildings, senior living homes, and real estate properties.
Details can be found at https://smartcarpetcare.com
The expanded services entail treating tough stains (including pet stains) and odors in all synthetic fibers and wool materials. Smart Carpet Cleaning's proprietary cleaning method employs the use of environmentally-friendly, non-toxic products (like static-attraction formulas that have no solvents or phosphates) that dry quickly, without the use of fans or open windows.
Through their carpet cleaning technology, the company's team of experts works to eliminate problems found in worn, stained, or messy carpets without the traditional methods used in steam cleaning. With Smart Carpet Cleaning, spots and stains are permanently removed since the team focuses on eliminating the cause, which often is due to the backing and pad getting wet.
Smart Carpet Cleaning uses what they term an "exclusive propriety formula" that acts on the carpet fiber in two ways. The formula works first to reduce surface tension so that soil is easier to be removed then uses static attraction to transfer the soil from the carpet to nylon static pads.
According to a spokesperson for the company, "our unique process deep-cleans and removes high soil in entries, kitchens, and in front of couches".
More information can be found at https://vimeo.com/82418629
The representative explained that with traditional steam cleaning, 25 gallons of water are used in the process. This causes the backing and pad of the carpet along with the subfloor to get so soaked that not even strong suction could dry it up. Additionally, since the drying process may take hours, mold and foul smells can develop while spots return to the surface of the carpet.
On the contrary, Smart Carpet Cleaning's eco-friendly method uses only three gallons of water per 1000 feet of carpet and never gets the material wet. This reduces the amount of drying time to 30 minutes, thus reducing the risk of one's carpet developing mold and odors or spots returning.
The representative also notes that repeated steam cleaning's water damage contributes to one's carpet getting slack or breaking down over time and further early replacement of both the carpet and subfloor material. Smart Carpet Cleaning method, in comparison, enables carpets to stay clean much longer, reduces the need for cleaning from four to two times per year, saving one money and improving the appearance of one's carpet.
More details can be found at https://smartcarpetcare.com/green-carpet-cleaning-fort-collins
"Smart's process produces amazing results and is effective on… off white carpets, high spotting situations, and can remove red stains. Smart's restoration ability can save many neglected carpets from replacement often postponing replacement costs for three or more years, and can extend the carpet replacement cycle by over 50%," the spokesperson stated.
Smart Carpet Cleaning has received five-star customer reviews on sites like Yelp, Greeley Tribune, and Better Business Bureau (BBB). As a free demonstration, the company offers to clean up to three areas of its client's carpet and also provides a free quote.
Interest parties can click on the links above to find out more.
https://g.page/smartcarpetcare
Release ID: 88976347