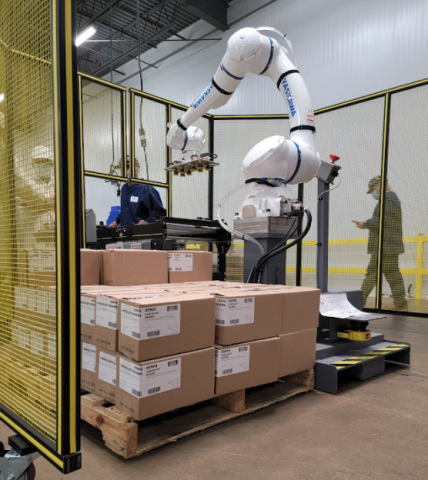 - November 4, 2021 /PressCable/ —
Earlier today, Formic Technologies announced its palletizing service, which has been in development since September 2020. The main aim is to enable businesses to stack boxes of all shapes and sizes to their pallet design of choice… but it does so, with a difference.
Malcolm Kerr, Business Operations and Strategy Lead at Formic Technologies, says: "We wanted to try something new with this Palletizing service. Anyone familiar with the robotics market will have noticed how selling robots for palletizing is the industry standard, rather than the more flexible robotics-as-a-service approach. This is a problem because this is an inflexible solution with high upfront capital requirements."
So as a welcome breath of fresh air, Formic Technologies will instead enable food producers and CPG companies to "hire" robots and begin palletizing at no upfront cost. Formic Technologies chose to make this move because manufacturers needed a better way to get started with automation. Formic uses palletizing robots from all the major OEMs, including Yaskawa, FANUC, KUKA, and Universal Robots.
Malcolm Kerr also said "We want to give our customers flexibility, cost-savings, and one less item on their to-do lists. With our new Palletizing service, they have a fresh new possibility. We want them to feel as though they can focus on other areas of the business, while Formic takes care of all aspects of their automation needs when using our service. Trying something new is always a risk, but it's a risk we believe is worth taking."
Formic Technologies has been in business for since September of 2020, being established in since September of 2020. Since Day 1 it has always aimed to make automating easy and trivial.
The new Palletizing service is set to launch is already in market. To find out more about the service and Formic Technologies, it's possible to visit
https://www.formic.co
Release ID: 89051751