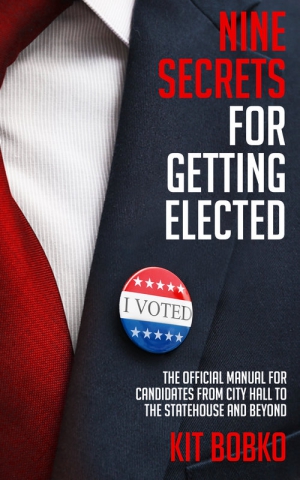 - October 21, 2017 /PressCable/ —
HERMOSA BEACH, CA – Former Hermosa Beach, California, Mayor and candidate for U.S. Congress Patrick "Kit" Bobko reveals the "Nine Secrets For Getting Elected; The official Manual For Candidates From City Hall To The Statehouse and Beyond" in his newly released book. The book combines true stories from Mayor Bobko's time on the City Council with lessons or "secrets" on what it takes to run for office, and win!
The world has changed and so have the secrets and techniques for getting elected to local or higher office. The election of 2016 has proven that anyone can run for office and win if the right steps are followed. For those who have desired to serve, to fix what's broken or who think now is the perfect time to fulfil a political dream, this book is a must-read.
Nine Secrets For Getting Elected shares the truth about politics. It's about the things essential to running – and wining! – public office. It's an unfiltered view of local politics from the campaign trail to serving on the city council and beyond. Bobko walks a prospective candidate through planning, building the support required to run, fundraising, and winning endorsements. He guides them around the pitfalls of accepting the wrong kind of help, and learn about the unseen web that exist between government organizations and people in the political arena.
Kit Bobko shows how to raise money, how to avoid or pay attention to the right people and how to use his "secrets" to a candidates advantage. This is a perfect "how-to" for potential candidates intertwined with Kit's personal memoirs of his time as a candidate and elected official. Just a few of the things the former politician teaches in "Nine Secrets For Getting Elected".
"Nine Secrets For Getting Elected" is available on e-book, paperback or hardcover on Amazon at https://www.amazon.com/Nine-Secrets-Getting-Elected-Candidates-ebook/dp/B071PF5WY2
About the Author
Kit Bobko is a graduate of the Air Force Academy and served in the United States Air Force earning the rank of Captain. Kit received a Masters of Arts in Philosophy from the University of South Carolina and a Juris Doctorate from The George Washington University School of Law. He is a partner at a law firm in Los Angeles. For more information log onto kitbobko.com
Release ID: 253131