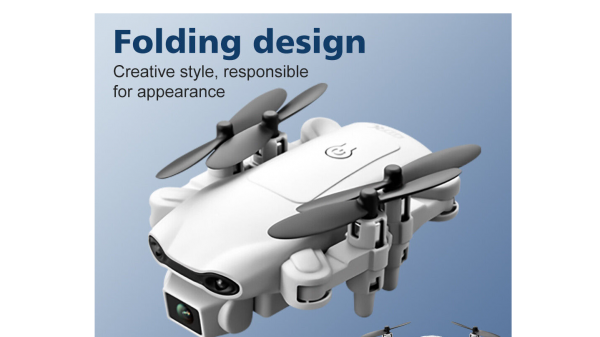 Sheridan, United States - May 29, 2023 /PressCable/ —
Introducing the Vortex Aerial Camera Drone: Unleash Creativity with High-Performance and User-Friendly Design
Dronedandy, a leading drone retailer, is proud to announce the release of its latest innovation, the Vortex Aerial Camera Drone. This cutting-edge device redefines the way enthusiasts and professionals capture stunning photos and videos from above. With its high-quality camera, real-time FPV, stable flight, and user-friendly features, the Vortex Quadcopter Drone empowers users to unleash their creativity and explore breathtaking perspectives like never before.
One of the standout features of the Vortex is its high-quality camera, which allows users to capture stunning aerial photography and videography with exceptional clarity and detail. Whether it's capturing sweeping landscapes, tracking moving subjects, or exploring unique angles, the Vortex delivers exceptional image and video quality that truly stands out. With this drone in hand, users can take their creativity to new heights and produce awe-inspiring visual content.
The real-time First Person View (FPV) feature of the Vortex takes the flying experience to a whole new level. Users can now see the world from the drone's vantage point in mesmerizing detail, immersing themselves in the action as if they were flying themselves. The real-time FPV capability allows users to make more precise maneuvers, frame their shots with greater accuracy, and capture incredible footage with ease. It's like having a bird's-eye view at their fingertips, enabling them to explore the world from a whole new perspective.
Stability and precise maneuverability are crucial for capturing smooth and controlled aerial footage, and the Vortex excels in this regard. With its multiple rotors and advanced flight control system, the Vortex ensures stable flights even in challenging conditions. Users can fly with confidence, knowing that their shots will be steady and free from unwanted vibrations. This stability opens up new creative possibilities and allows users to capture breathtaking footage that is both professional and cinematic in nature.
Designed with beginners in mind, the Vortex is equipped with easy-to-learn features that make it accessible to users of all skill levels. Features such as altitude hold, headless mode and automated flight modes simplify the flying experience, allowing beginners to quickly get up to speed and enjoy the thrill of flying a drone. The intuitive controls and user-friendly interface make it a breeze to navigate the Vortex through the skies, giving users the freedom to focus on capturing stunning imagery.
Versatility is a key aspect of the Vortex Quadcopter Drone. It is not limited to one specific application but caters to a wide range of uses. Whether they are recreational flyers seeking thrilling adventures, an aspiring aerial photographer looking to capture stunning shots, a surveyor needing an aerial perspective for mapping and inspection, or even a first responder involved in search and rescue operations, the Vortex is ready to assist. Its adaptability and versatility make it an invaluable tool in various industries, providing solutions to different challenges and needs.
Portability is another feature that sets the Vortex apart. With its foldable design and lightweight construction, this drone is highly portable and easy to carry on any adventure. It conveniently fits into a backpack or travel case, allowing users to take it wherever their creativity leads them. Whether it's a hike through the mountains, a beach vacation, or a road trip, the Vortex is always ready to capture captivating footage and preserve memories from above.
Innovation is at the core of the Vortex Quadcopter Drone, and it comes packed with advanced features that push the boundaries of what a drone can do. Obstacle avoidance systems ensure a safe and worry-free flying experience by detecting and avoiding potential obstacles in the drone's path. Follow mode enables the drone to track and capture footage of a moving subject autonomously. Waypoint navigation allows users to plan and execute precise flight paths, perfect for creating complex aerial shots or conducting detailed surveys. The intelligent flight modes offer a range of automated features that enhance the flying experience and open up new creative possibilities.
Michael Anderson, an executive at Dronedandy, expressed his enthusiasm for the Vortex Quadcopter Drone, stating, "As an avid drone enthusiast and entrepreneur, I'm thrilled to introduce the Vortex quadcopter drone. It offers exceptional aerial photography and videography capabilities, real-time FPV, stable flight, and precise maneuverability. This drone allows users to unleash their creativity and capture breathtaking perspectives previously inaccessible. With additional features like obstacle avoidance, follow-me mode, and intelligent flight modes, the Vortex offers a truly immersive and innovative flying experience. Embark on an exciting journey and capture extraordinary moments with the Vortex quadcopter drone."
Dronedandy has been in business for over a year, establishing itself as a trusted name in the drone industry. By prioritizing customer satisfaction, providing high-quality products, offering innovative solutions, and delivering exceptional customer service, Dronedandy aims to cultivate a positive reputation and become a go-to destination for drone enthusiasts and professionals.
For those interested in experiencing the Vortex Aerial Camera Drone, visit the website at http://dronedandy.com for full details. Discover the possibilities and unleash aerial creativity with the Vortex Quadcopter Drone by Dronedandy. Elevate photography and videography games to new heights and capture stunning footage that will leave a lasting impression. Don't miss out on this exceptional offer and embrace the future of aerial photography with the Vortex Aerial Camera Drone.
Contact Info:
Name: Olive Michela
Email: Send Email
Organization: EMarketing Co.
Address: 30 North Gould Street #Suit R, Sheridan, WY 82801, United States
Website: http://dronedandy.com/

Release ID: 89098721