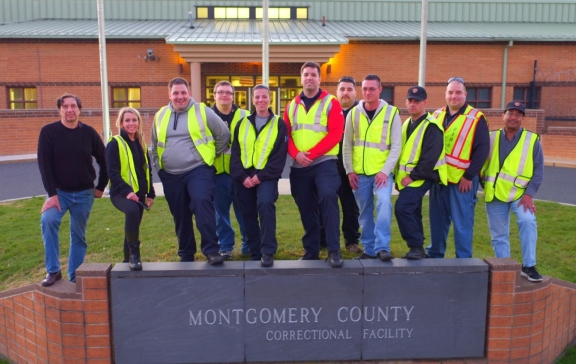 - December 30, 2016 /PressCable/ —
FlexRight Solutions™ has designed and developed a proprietary FAA compliant curriculum for commercial pilot training and has successfully adapted it for use in the Pennsylvania prison community, starting at the Montgomery County Correctional Facility (MCCF) on November 14, 2016.
This is the first time a full aviation unit and department has been trained to deploy sUAS platforms in a Pennsylvania prison environment to confront the proliferation of drones that might be used to deliver contraband to inmates currently incarcerated at the prison. The remote pilots will also be able to use their aircraft to perform search and rescue missions, locate and identify escaped prisoners, perform aerial surveillance over the facility, day and night, and operate infrared technology, among other things.
Nine correctional officers were trained to form the first known sUAS Flight Aviation Department at the prison. During the seven days and 56 hours of training, team members were instructed in the FAA's rules, regulations and guidelines regarding the use of small Unmanned Aircraft Systems (sUAS), commonly referred to as drones. The officers worked closely as a team of UAS remote pilots alongside the prison's CERT Teams and K‐9 Units. Pilots were trained to not only fly missions, but to be able to intercept any incoming unauthorized drone flights in the surrounding airspace. The sUAS Flight Aviation Department at the Montgomery County Correctional Facility (MCCF) now operates daily flights and training missions as part of their new responsibilities throughout a scheduled shift.
Current laws in the U.S. forbid unauthorized UAS flights over prison facilities. The next phase of the training for the UAS flight crew will integrate drone detection technology and systems to assist the facility's sUAS Flight Aviation Department to intercept and further deter unauthorized aircraft.
With the full support of the Warden, Julio Algarin and his leadership team, each individual in the sUAS Flight Aviation Department will sit for his/her remote pilot exam with the Federal Aviation Administration (FAA) within 90 days after completing the UAS Flight Training Program to become a licensed and certified FAA remote pilot operator. The exam covers the 127 knowledge concepts as published in the UAS Airman Certification Standards.
Now that the first sUAS Flight Aviation Department has been established at the Montgomery County Correctional Facility (MCCF), the stage is set for other facilities to take flight with their own UAS flight crews using the processes, platforms and systems from MCCF. For more information about establishing a sUAS Flight Aviation Department, contact FlexRight Solutions™ via email at dpitts@flexrightsolutions.com.
About FlexRight SolutionsTM
FlexRight SolutionsTM, based in Fort Washington, PA, is a disruptive innovation technology and training company focusing on small Unmanned Aircraft Systems (sUAS) and strategy consulting to create solutions that transform enterprises, cultures and networks.
An award winning company (PA Home Builder Association, 2016), the firm provides a new style of destination consultancy using strategy consulting, sUAS technology, disruptive innovation and computer‐vision platforms to help organizations radically change how they understand and interact with systems and human behavior.
Unlike the traditional consultancy of days past, FlexRight aligns with modern buyer's preference for organic, strategic and quality content focused on the destination—the Future Picture.
With their unique style and approach, FlexRight SolutionsTM has set the industry standard in leveraging strategy consulting, unmanned aircraft systems (UAS), drone detection & person‐to‐person violence detection systems, Level 1 Thermography, UAS Training, 3D Mapping and Aerotriangulation for UAV flights to give buyers real, irresistible destination experiences that sets the stage to transform and disrupt the norms. Using integrated behavioral analysis, their algorithms measure human faces in any camera enabled app. Developers use FlexRight SolutionsTM person‐to‐person analytics to transform how people and systems respond and react to one another.
Release ID: 157878