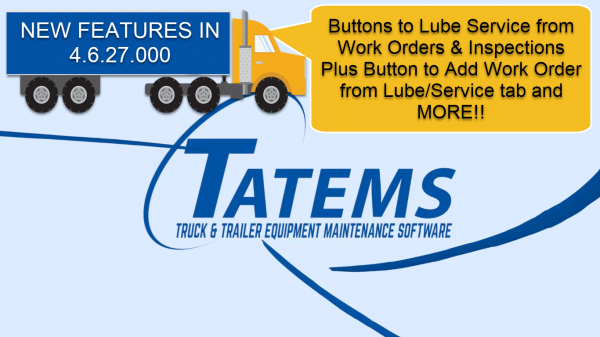 - November 21, 2019 /PressCable/ —
PCHelp, LTD has announced a new upgrade to their popular Fleet Maintenance Software, TATEMS. The software system that helps small fleets with the maintenance of trucks, tractors, trailers and equipment.
TATEMS has multiple new features designed to make life easier for Small Fleet Managers including:
New ability to create work order and lube service (PM) from 90 Day Inspection screen – In the 90 Day Inspections screen 3 new buttons were added. Add Lube/Service , Copy Defective Items To Work Order or Open Existing, Copy Defective Items To Needed Maintenance Repairs. These 3 new buttons allow the user to create these items in other parts of the program without having to leave the 90 Day Inspections Popup screen.
New ability to create or open existing work order based on current lube/service from the Lube/Service tab – The new Work Order button now seen next to each Lube/Service entry allows the end user to create a new Work Order based on the Lube/Service. It copies the Lube/Service Type, the odometer or hours meter reading, the accomplished by person and each of the items checked during the PM to a new work order. It then opens the newly created work order in a popup window for display, further editing and completion.
New ability to create new lube/service from within a work order. – The new Lube/Service button on the Work Order popup screen will allow the users to create a Lube/Service from within a work order, without having to first close the work order screen and go back to the Lube/service screen. This was a highly requested feature to make life easier for the users.
These and other new features are highlighted the video:
A full list of changes and updates to TATEMS version 4.6.27.000 and previous versions can be found on the company website, https://tatems.com.
The changes in this Fleet Maintenance Software were bought about due to client requests for new features to speed up data entry and make TATEMS even easier to use. As part of an ongoing effort to improve the user experience for TATEMS, customers can expect regular update release cycles. New versions are typically released every one or two months
Marc Ready, Principal , had this to say:
"The team has worked hard to include the new features and get the new version released to users. New versions of TATEMS are based on user feedback and updates are released on a one to two month cycle. it's always gratifying to see the wonderful comments that users have after each update."
Current customers interested in learning more about the upgrade can do so directly on the website at https://tatems.com. New customers can also use the site to get a free trial to test out the latest version of TATEMS.
Release ID: 88935229