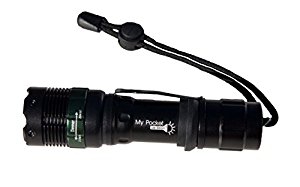 - February 1, 2017 /PressCable/ —
Recently, Gwyneth Paltrow, the brains behind Goop, a wellness and lifestyle brand, dropped her 2017 Valentine's Day shopping guide, and one thing on the suggestion list surprised a lot of people: a flashlight. But this flashlight isn't the typical light that couples might buy for each other as a Valentine's Day gift. It's a Prada flashlight, complete with its own Saffiano leather zipper pouch. And, it costs $260.
"While I agree that a flashlight makes a great Valentine's Day gift, I don't think it's necessary to spend almost $300 to get a good one," says a spokesman from MJH Innovations, a retailer who specializes in quality products sold at reasonable prices. "People can find a powerful handheld LED flashlight much more affordably."
Paltrow is known for touting extravagantly expensive products on her blog, and has taken criticism for it in recent years. But she has her fans, and when she makes a suggestion, the product is often sold out soon afterwards.
"The key factor to look for in a flashlight is that it has sufficient lumens to lit up an area, at least 380, that it's made of a tough material such as aluminum grade steel, it's waterproof so you'll have light no matter what the circumstances are, and that it's small enough to carry with you at all times.
"I appreciate Gwyneth Paltrow's sense of style and her appreciation for the finer things in life. But I must disagree with her on this suggestion. Unless people just want the name Prada stamped on their flashlight, there' s no need to spend that kind of money to get a quality light that will last for years.
About: MJH Innovations is seller of quality products that make people's lives easier. It is their company philosophy that good products shouldn't cost a fortune, and they work hard to provide quality products to consumers for reasonable prices. Shoppers can find many of their products listed on Amazon Prime.
Release ID: 165963