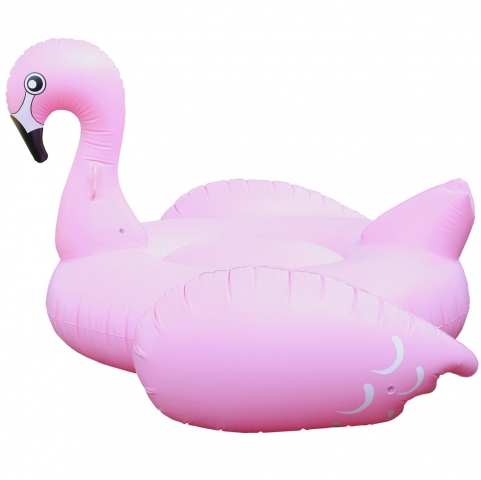 - April 13, 2017 /PressCable/ —
It has been nearly eight months since Teddy Shake launched their bright pink, 80-inch inflatable flamingo float. Over the past months, the Teddy Shake flamingo float has become an Amazon.com best-seller and favorite among customers. Teddy Shake is excited about these sales, but also wants to do their part to ensure that only safe, quality products can be purchased in the United States.
"We know our flamingo float is not designed or targeted for use by children, but we do understand that children will be attracted to our float and want to use it," explained Teddy Shake spokesperson Bailey Anderson. "Making a product that is safe for children is a very serious concern of ours. We have the option to use lower price materials in the production of our float, but these materials have been shown to contain chemicals that are harmful to children. May people shrug this off, stating that this is a toy designed for riding, that chemical will not be ingested, but think about it. Your child is relaxing on the float, lays a snack on the float, ingests water that the inflatable has been floating in – there are so many possibilities of exposure, why take a chance? The safety of these children, and everyone is a priority for us. This is why we are committed to the use of quality, chemical-free materials, and have started a petition to encourage other companies to do the same."
The durable, high-quality vinyl, the pink flamingo float by Teddy Shake can withstand hours of play and fun. Each float contains multiple inflation valves, designed to make inflation of the float easier. There are also two handles on the neck of the float to help customers stay seated on the float while riding.
Over ninety customers have written reviews for the pink flamingo float, with ninety-nine percent of customers saying they like their Teddy Shake pink flamingo float. Ano 1 Tech wrote a five-star review that said "This is one of the best "fun" purchases we've ever made! This float is HUGE. Huge! It is comfortable for a bigger girl like myself. It feels nice to fit comfortably on a pool float. The kids love it and call it their 'island.' Hahaha! We do have an air compressor which helps blow it up quickly – just a tip I'd recommend. It's so big I couldn't imagine blowing it up by mouth. We also felt it held the air pretty well. With some recent significant temperature changes we thought it would be a total mush, but it just needed the tiniest bit more air. This was the only extra fill, and it's been blown up for about three weeks now. I'd definitely recommend for a larger pool and anyone who has lake/beach access."
The Teddy Shake flamingo float is priced at $39.99, with free shipping available with a minimum purchase of $49.
About Teddy Shake: "As relaxing as a Bahama breeze; Teddy Shake makes the world's most relaxing, fun, and quirky pool floats for you and your family. With constant R&D and innovative thinkers working to make the most incredible pool floats and toys possible, we want nothing more than for you to have the time of your life."
Release ID: 186067