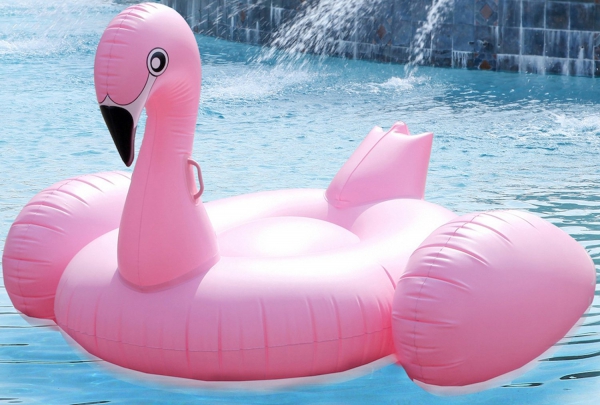 - November 1, 2016 /PressCable/ —
Teddy Shake's inflatable flamingo float is made of a bright, colorful pink vinyl that is durable and high quality. The float measures 80 inches and includes handles to assist with riders getting on and off the float. The float can be used for riding or lounging and is suitable for all ages.
"Our company has invested countless hours into the development of this float, to ensure that we can provide the best product for our customer. We have been excited about the customer response to our float this far and have received fantastic feedback. We want to build upon this feedback and make sure all potential customers understand our commitment to this product and their satisfaction. We want and encourage their feedback, and if a customer is not completely satisfied with their float, we will ensure their money is refunded in full," offered company spokesperson Bailey Anderson.
Over 220 satisfied customers have left glowing reviews of the Teddy Shake flamingo float, with the average review rating a 4.9 out of 5 stars. Hannah M. wrote, "This is probably the largest pool float we have ever owned, and we have owned a large number of them! First, I'm going to recommend not even attempting to blow this thing up by mouth. In fact, even a hand pump is really going to do you in. We used an air compressor to inflate it and I strongly suggest doing so to save yourself the physical effort involved. However, even though it may take a ton of air to inflate it, we have not had to add any more air to it. It seems to hold the air very well once it is initially inflated. In addition to being huge, the quality of this pool float is really good. It is a very sturdy vinyl material and will stand up to a lot of use and time in the sun. We are not particularly gentle with our pool floats and this one is holding up really well. At 35 weeks pregnant, I have been able to get comfortable on this float and have plenty of room to spare for my 2.5-year-old daughter to ride along as well. Since we are nearing the end of swimming season, I know we will be able to use this next summer too which is great because then I'll have two little ones who will want to share the float with me. There is definitely enough room for me and two kids to ride comfortably! The shape of the float is really well thought out too. If you want to straddle the float, there are handles at the base of the neck to help you hang on. The two wings provide a wide base so that the float does not tip over. My favorite structural feature of this float is the tail. It is the perfect pillow if you choose to lay back and relax. Overall, I think the design is well thought out and makes for a versatile and comfortable float."
Sold exclusively at Amazon.com, the Teddy Shake flamingo float is currently priced at $39.99. Free two-day shipping is available to all Amazon Prime customers. Any order over $49 will also ship for free.
About Teddy Shake: "As relaxing as a Bahama breeze; Teddy Shake makes the world's most relaxing, fun, and quirky pool floats for you and your family. With constant R&D and innovative thinkers working to make the most incredibly pool floats and toys possible, we want nothing more than for you to have the time of your life."
Release ID: 142398