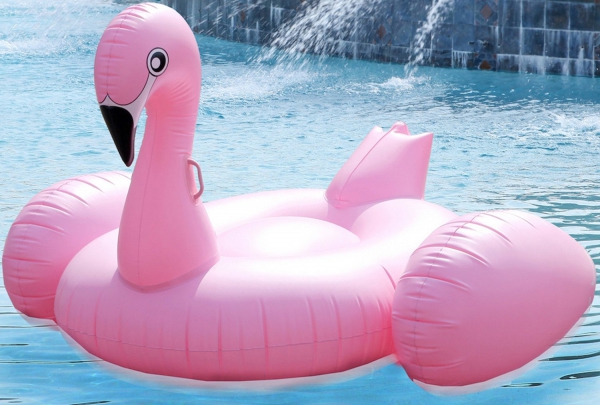 - March 24, 2017 /PressCable/ —
March marks the beginning of spring. Although the days become just a bit longer and weather slightly warmer, in some parts of the country, many states still do not see much of the sun. This can lead to people feeling more tired and just plain sad. Teddy Shake wants to bring a little sunshine into these dark days and announced this week that they are encouraging customers to celebrate sun and beach day.
"Since the launch of our flamingo float just over six months ago, we have received an incredible response from customers," explained Teddy Shake spokesperson Bailey Anderson. "There is something about this huge inflatable flamingo that just makes people smile. We wanted to do something to help bring a little more sunshine into the dark days of our customers. Our hope is that by encouraging them to celebrate beach and sun day, the will be motivated to just have a little fun, knowing that longer days and warmer weather will be here soon." The date customers are encouraged to celebrate sun and beach day is April 2.
Measuring an impressive eighty inches in length, the Teddy Shake pink flamingo float is made of a high quality, durable vinyl that is bright pink in color. The coloring of the vinyl is designed to remain vibrant, even after many days in the sun. The Teddy Shake float is perfect to use in the swimming pool, at the beach or just lounging around in the living room.
Of the ninety-three reviews written for the Teddy Shake flamingo float, ninety-three percent of customers have rated the float a perfect five out of five stars. One five-star review was written by Marge, who said "This thing is just too much fun! We have a flamingo thing in our family and also a membership for a local pool where we often leave our floaties for other people to use. This was a huge hit at the pool- the kids and adults alike just love it. None of our floats make it through more than a season at the pool, due to the shared constant use of them and whatnot, but this one seems like it will last at least as long as the rest have! Good quality, cute float!"
Currently priced at $34.99, the Teddy Shake flamingo float can be purchased only on Amazon.com.
About Teddy Shake: "As relaxing as a Bahama breeze; Teddy Shake makes the world's most relaxing, fun, and quirky pool floats for you and your family. With constant R&D and innovative thinkers working to make the most incredible pool floats and toys possible, we want nothing more than for you to have the time of your life."
Release ID: 180628