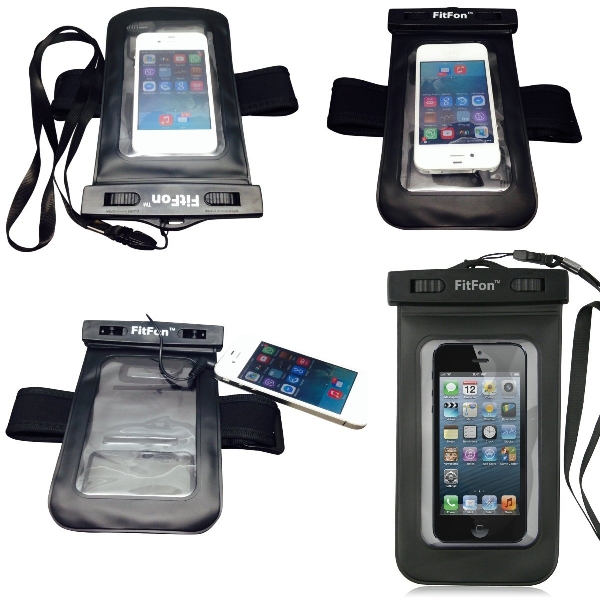 - March 11, 2015 /PressCable/ —
FitfonTM releases new iPhone waterproof case on Amazon.
The Fitfon Waterproof iPhone Case has a crystal clear window on both sides, perfect for taking pictures or videos. With a secure Snap Lock System, device will be secure all day whether on swimming, relaxing on the beach, boating, or drinking near water while maintaining full touch screen functionality, keeping the phone from falling and being damaged.
iPhones accounted for 29% of all the smartphones sold in the UK in the first quarter of this year. In the US, this was 44%, showing just how much more popular Apple devices are in America than in Britain. Worldwide, 17% of all smartphone sales in the same period were iPhones. And with these number of users, Fitfon comes to provide new protection to mobile devices. Having a waterproof case, this protects the mobile device from all weather conditions and from unforeseen events that may occur.
Fitfone Waterproof iPhone Case features Universal Waterproof External Earphone/ Accessory Jack that will be great especially when swimming and other outdoor activities. With this capability, listening to music anytime and anywhere is now possible without worrying on the phone getting wet or soaked. And not just that, taking calls is now very easy with this function. And adding the Armband that makes the case feel easy to carry anywhere without the sling on the neck which sometimes seems inconvenient at certain places.
The FitFonTM Waterproof iPhone Case With Universal Waterproof External Earphone/ Accessory Jack and Armband is a great gift for all who has an iPhone 5, 5s, 5c or iPod Touch 5. This is a must have for Smart phone owners to keep them hands free while performing daily activities, such as working, exercising and even shopping.
FitFon iPhone waterproof case is available on Amazon. For more great information about Waterproof iPhone Case, visit the website http://www.fitfon.com.
Release ID: 76517