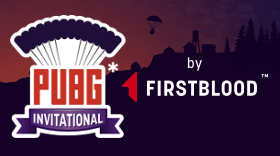 - June 30, 2018 /NewsNetwork/ —
Boston, MA—FirstBlood Technologies, Inc., a tech startup that is focused on bridging the gap between professional gamers and amateurs through empowering competitive players, is offering a big cash prize of $10,000 at their FirstBlood PUBG Invitational, taking place June 30th at 16:00 Eastern time. FirstBlood's support of competitive gamers has positively impacted the community, and now regular players are able to see the possibility of going pro. This PUBG Invitational includes major teams like, Cloud9, Optic Gaming, TSM, EnVyUs and, many more. One lucky amateur team gets the chance to compete for the prize and glory, too.
It is hard to become a professional in nearly any industry, but gaming is one of the most competitive of all. Games are easy to acquire and to play for almost anybody, but in order to get paid for it, a player must really need to stand out. Game streaming websites and communities, such as Twitch, simply have too many contenders for audiences to view that they all tend to blend together unless a gamer already has a following and a reputation.
FirstBlood has noticed this struggle that normal gamers face every day and has responded to it by working on innovative technology designed to evolve the world of competitive gaming. In short, they aim to make it easier for an amateur gamer to realize their dream of becoming a pro. They also host exciting events, such as the FirstBlood PUBG Tournament. In this year's June 2018 event, they already have an extensive lineup of competitive teams with one more waiting to be announced based on the results of a final qualifier tournament.
Through their FirstBlood website, they allow gamers to sign up either individually or as a team to compete against other online players with a wide variety of skill levels. Whether a player wins playing solo or wins as a team, they will be able to compete and get paid for their skill.
FirstBlood continues to strive to connect the worlds of professional and everyday players. Those who were invited to compete in the 2018 Invitational range from the biggest and, best teams in the Americas to one amateur team given the chance to compete against the best. This event is sure to be exciting and with $10,000 on the line the players and teams seem excited too.
Release ID: 369021