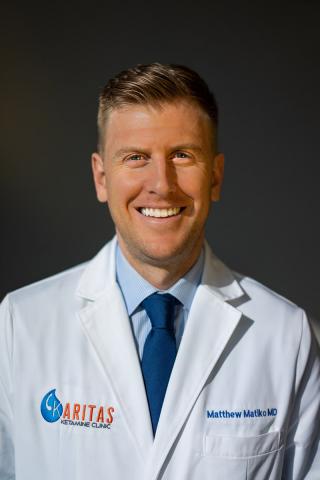 - August 27, 2019 /PressCable/ —
WEST COVINA, Calif., August 20, 2019 – There are approximately 16 million Americans who suffer from depression, and a reported 30% gain no relief from medication. Residents of West Covina suffering from treatment-resistant depression, anxiety, post-traumatic stress disorder (PTSD) or severe chronic pain may find hope at the new Karitas Ketamine Clinic. This ketamine infusion clinic is centrally located between LA and Orange County within the Inland Empire area. Karitas Ketamine uses low-dose ketamine treatments performed by anesthesia providers in private suites to relieve symptoms.
Dr. Matthew Matiko, an Anesthesiologist and founder of Karitas Ketamine, recognizes that mental health disease and chronic pain are emerging epidemics in our country. "Way too many patients are left without good treatment options," he says. "By the time they come to us, most patients have exhausted all of their depression treatment or physical pain management options, with little or no results."
While traditionally used in hospitals for anesthesia, studies have shown that a course of intravenous treatments with ketamine have helped a majority of the people with drug-resistant depression. Unlike traditional antidepressants, which can take 4-6 weeks before any improvement, Ketamine can stunt suicidal ideation within as little as 40 minutes.
Ketamine is also used to treat various chronic pain syndromes, and can reduce chronic pain symptoms for up to six consecutive months.
While ketamine infusions are not currently covered by insurance, Dr. Matiko and the Karitas team have worked very hard to develop a clinic that provides the best available care while remaining accessible and affordable to all. "We are firm believers that what we do literally saves lives and we hope that soon enough everyone who needs us will be able to afford treatments," Dr. Matiko says. "To those suffering from chronic pain, migraines or depression, please know that there is hope."
Release ID: 88912511