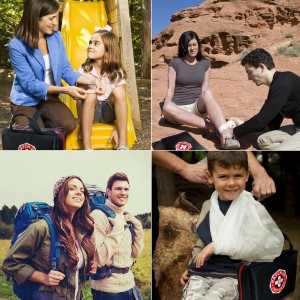 - September 23, 2016 /PressCable/ —
Patch-Up Products, the producers of a high quality first aid kit for campers and adventurers with over 270 pieces and 39 unique items, has launched a new first aid report showing readers the proper care and treatment techniques for problems and accidents. Designed to help people be prepared for many commonly occurring injuries and emergencies, it teaches people to be able to react confidently when crisis strikes.
More information can be found on the Patch-Up Products website at: http://http://patchupkit.com/kit-use/first-aid-guide/
The report begins by offering a series of instructions for people to do and things they need to avoid, underlining the general guidance policies when first aid situations arise both at home and outdoors. It says that, for general emergencies, people should never put themselves in harm's way. They also shouldn't attempt to fix dangerous issues, like chemical leaks or live wires.
However they can help to provide a safe environment, whether that's by turning off a stove, carefully managing the electricity or nearby equipment, or having someone direct traffic. In addition to this, it says that it is a good idea to look for bystanders that may be able to help, and to begin treating with first aid as long as they are confident performing it.
The report covers a wide range of common accidents, injuries and emergencies, including burns, poisons, sprains and strains, knocked out teeth, and frostbite. It also shows readers what to do if someone has fainted, or if they display the signs of a heart attack or a stroke, and stresses the importance of having a good emergency kit within easy reach.
Patch-Up Products is known for its family emergency medical care and survival kit, Patch-Up First Aid Kit, which is available for purchase on Amazon and is collecting glowing reviews for its well arranged, high quality items. The page listing underscores that it is designed to be used for all situations, including at home, on the road, and during sporting events.
The 270 items are contained within a heavy duty water and stain resistant nylon bag, housing hospital grade medical supplies, to help ensure that families stand the best chance of staying safe in the event of accidents and emergencies. More information can be found on the Patch-Up Product website at http://patchupkit.com.
Release ID: 134036