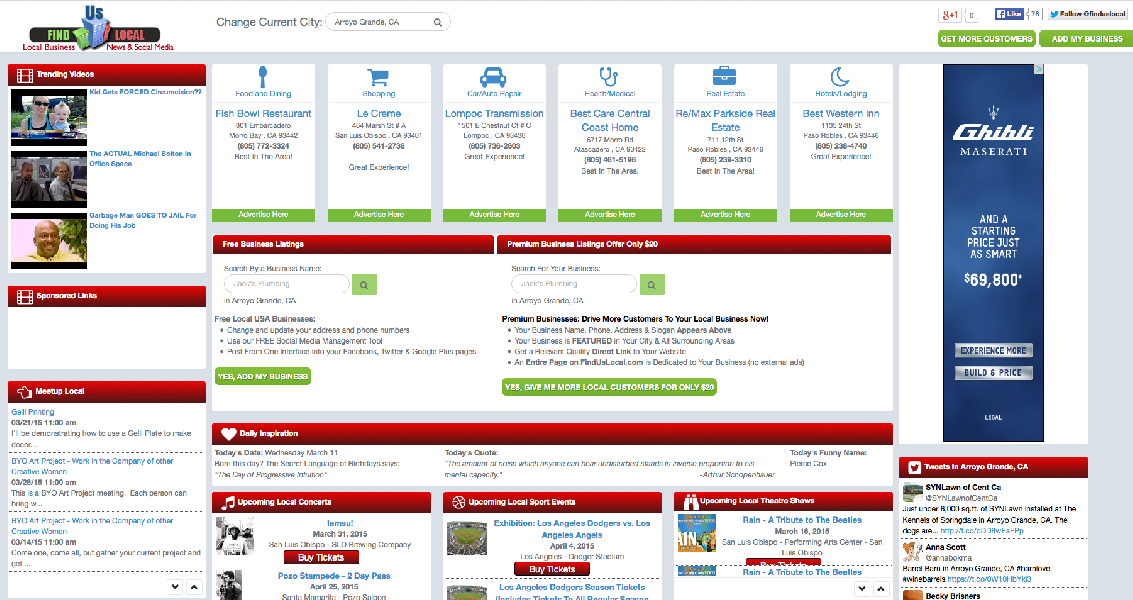 - March 13, 2015 /PressCable/ —
Arroyo Grande, CA – March 12, 2015 – A major marketing research company had just released their list of top 20 places to list a business online. While the list includes many of the big-name directories, local business directories are taking a larger and more important role in promoting offline businesses of all kinds.
The days of the local phone directory are long gone. With nearly 90 percent of consumers searching for products and services on the Internet, savvy business owners understand that they need an online presence. Until recently, the online promotion space was dominated by Google, Yahoo and Bing – the big three search engines making search engine optimization the single most important online marketing strategy. That's all changing, though, thanks in large part to the rising popularity of local business directories.
Listing a business in online business directories offers many advantages, according to FindUsLocal.com, a pioneer in the widening field of localized business listings that are increasingly taking on an important role in Internet marketing. Unlike old-fashioned directories, which often required people to drill down through dozens of layers of locations and categories to find the results they wanted, sites like FindUsLocal.com use built-in browser geolocation services to pinpoint visitor locations in the real world, and serve up relevant content and advertisements on the front page.
The use of geolocation services makes them well suited to today's sophisticated consumer, who is used to customizing nearly every aspect of their online and mobile experience, said a spokesman for the company. "These are customers who are used to choosing and creating their own media delivery channels. They watch television programs and movies on demand, have news and weather delivered directly to the mobile phones and decide which advertisements they want to see ñ and which they can hide and completely ignore."
Online business directories that use geolocation services cater to the online visitors by "displaying local content all in one place" – a mentality that seems to characterizes today's Internet-savvy consumer. With a site like FindUsLocal, they can visit one website and get a wide variety of information about their own towns and neighborhoods, all in one place. In addition to local news and weather, they can find nearby theater, sports and music events, new crowdsourced funding opportunities from local entrepreneurs, and the latest Tweets and blog posts from their neighbors.
For local business owners, it means their ads are being served to the people who are most likely to become customers ñ people who live in their own towns and cities. Most offer free business listings that provide contact information, location and business hours ñ the all-important basics. In addition, many offer very affordable premium listings that include feature advertisements, full page listings, and the ability to customize and update their listings to be more reflective of their business.
In addition the local exposure, these business listing sties also provide a little extra boost to SEO, which can help businesses capture search engine traffic as well. Overall, business registries and local business listings are among the best bargains for online advertisement in today's world.
About FindUsLocal:FindUsLocal.com is a unique USA local business directory. Its interface with browser technology allows it to deliver completely customized local content to site visitors, and provides a competitive advantage to businesses using its premium local promotion services. The company's blend of local news, events and business search results make it one of the fastest growing local business directories online.
Release ID: 76740