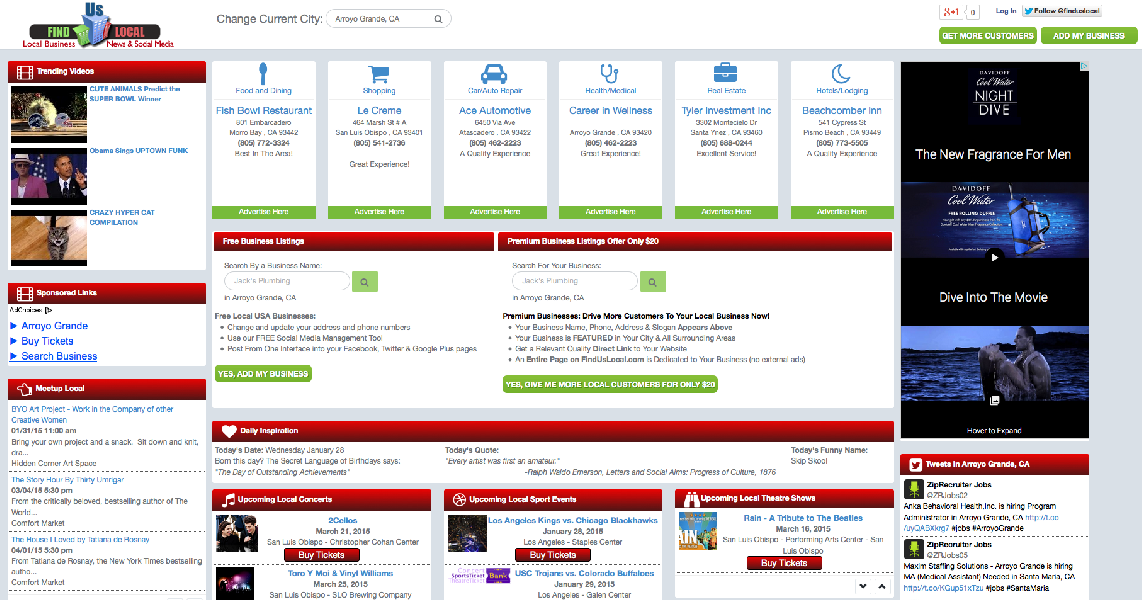 - January 29, 2015 /PressCable/ —
New York, NY, Jan. 29, 2015 Social media can be a mixed blessing for local businesses. On the one hand, Twitter, Facebook and business review sites offer valuable exposure and opportunities to connect with customers. On the flip side, negative exposure can spread like wildfire. Online business directory FindUsLocal.com has seen firsthand the damage that can result to small businesses from a negative online business review. Those damages can increase exponentially unless the initial bad reviews are handled promptly, the site's social media team notes. In a recent release, the team is offering these tips for responding appropriately to poor online business reviews.
The first step, says the social media team, is to monitor online reviews at each of the major business reviews and directories. FindUsLocal makes that easy by including the latest reviews of local businesses from the major social review sites on the front page of its own website. In addition, FindUsLocal uses geolocation technology to pull in local results from other social media, including Twitter. That makes it easy for businesses to quickly see any mentions of their business from local users in their local area.
Next, FindUsLocal says it's important to respond to negative reviews promptly, but business owners should avoid being defensive or responding in kind to offensive language and negativity. Instead, the FindUsLocal social media experts say, businesses should treat the complaint as if they are responding face to face. The response should keep an even, positive tone, and offer to evaluate their point and to make things right, even if the original reviewer is unlikely to see the response.
A private response allows the business to thank the reviewer for their business and for the feedback. If the review offered legitimate criticisms, a private response can let the owner get more details and explain any steps taken to ensure it does not happen again. Polite responses can often convince the reviewer to give the business a second chance, and sometimes results in the negative review being updated with the positive experience.
At times, a public response is warranted. Business owners should keep in mind that reviewers are not the only ones reading the response. Business owners need to remember that there may be a lot of potential customers reading their response too. Responding to negative reviews with positive solutions demonstrates good faith to those customers, and can leave them with a positive impression despite the negative review.
Finally, business owners don't have to wait for a negative response to reach out to reviewers. A private thank you to those customers who provide a good review also helps cement good relationships with customers. 
About FindUsLocal.com : FindUsLocal.com is a unique USA local business directory. Its interface with browser technology allows it to deliver completely customized local content to site visitors, and provides a competitive advantage to businesses using its premium local promotion services. The company's blend of local news, events and relevant business search results on its main page make it one of the fastest growing local business directories online.
Release ID: 73374