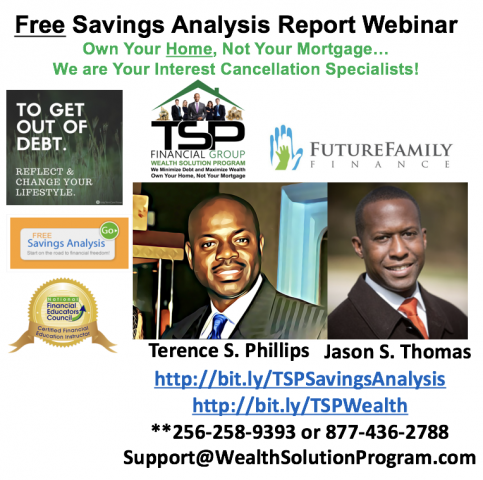 - October 18, 2017 /PressCable/ —
TSP Financial Group and Future Family Finance have linked up to join forces to educate families and the county to manage their money more effectively. The two companies are sponsoring a free 24-hour webinar that will educate and explain a new dynamic system and process to help manage finances more effectively.
More information can be found at: https://wealthsolutionprogram.com. The 24-hour webinar can be accessed at: http://bit.ly/TSP247Webinar.
Terence S Phillips is the founder of TSP Financial Group and has been in the accounting, finance, banking and auditing arena for over 25 years. He graduated from Hampton University in Virginia in 1989.
Jason S Thomas is the founder of Future Family Finance and is a veteran leader in finance, with over 25 years of experience in all aspects of finance. He specializes in financial education, lending and understanding how money works.
Their joint corporate mission statement is to educate, teach, and expose families and Individuals concerning the use of money, interest payments, and getting out of debt. In order to be able to leave a long-lasting positive financial legacy to their children and love ones for generations to come.
The webinar will explain and show individuals how to reduce the amount and number of interest payments on mortgages, loans, and credit card debts so that they can ultimately save money, and get back on the road to financial freedom.
The Webinar will show individuals how they can live an enhanced lifestyle, manage their own emergency fund, and cut their debt and spending; without getting another loan, loan modification, applying for bankruptcy, or any of the traditional methods homeowners and individuals fall into when they fall into a heavy debt situation. The information obtain in the webinar is life changing and will help them to manage their finances better, and establish a new lifestyle where they don't have to worry about money.
It will also show them how to streamline their current budget to better improve their financial management. The webinar is primarily designed for homeowners and individuals looking to get out of debt in the fastest way possible, and offers a wide range of tips to help them improve.
The Webinar format is more educational in content and provides a dynamic way of thinking and managing one's finances and avoiding the traps of traditional modifications, consolidation, and counseling methods. At the end of the webinar, homeowners and individuals will be able to get a FREE savings analysis to show them how much interest they can save with this new found information they have been presented, and start the transition to a pathway and lifestyle of financial freedom. Full details can be found on the URL above, where interested parties can get in touch using the contact details provided. This educational 24-hour webinar can be accessed at: http://bit.ly/TSP247Webinar.
Release ID: 251937