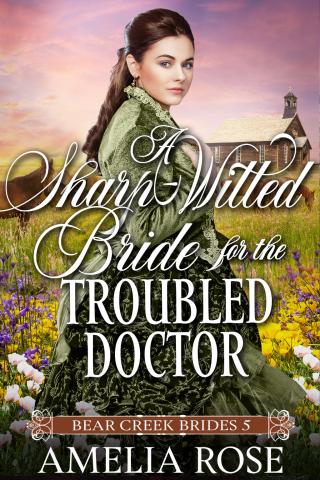 - July 7, 2020 /PressCable/ —
Romance novelist, Amelia Rose has released her newest romance novel on Amazon Kindle. The name of the novel is: "A Sharp Witted Bride for the Troubled Doctor: Historical Western Mail Order Bride Romance".
Details can be found at https://www.amazon.com/dp/B0897SCT66
The newly released novel is the fifth book in the Bear Creek Brides historical Western romance series. It details the events surrounding the life of Demetri, a doctor who is on the run with his deaf sister, Sandy.
Readers are told that Demetri and Sandy escape Colorado and the Irish mafia (who were hunting them down) and settle to what he perceives to be a calm life in Bear Creek. The novel relates how the doctor chose his profession as a means of protecting Sandy, who is deaf.
As they settle down in Bear Creek, they are seemingly free from the troubles of their past and Sandy begins to flourish in her new life. However, Demetri soon becomes lonely and longs for the company of his friend Emily, with whom he has been corresponding via mail.
According to the synopsis of the novel, Emily eventually makes it to Bear Creek, marries Demetri, and joins him and his sister at their new home. It describes Emily as being "no ordinary lady… with her fitted jeans, her pistol, and her sharp wit".
The tension heightens in the novel, as the Irish mafia catches up to Demetri and Sandy, putting not only the two and Emily in danger but the entire community of Bear Creek.
To captivate her audience, the author states, "you can't outrun a troubled past, no matter how fierce your love". Added to this, she piques the interest of readers by posing questions in her synopsis like: is love and friendship enough to save her (Sandy)? Can Emily prove herself to Demetri? Will this fearless bride cure the troubled doctor's heart?
Amelia's series of romantic stories give readers the sensual stimulation they might be seeking to arouse their romantic senses. The author describes herself as a shameless romance addict with no intentions of ever kicking the habit.
Interested parties can click on the link above for more information or to purchase the novel.
Release ID: 88967251