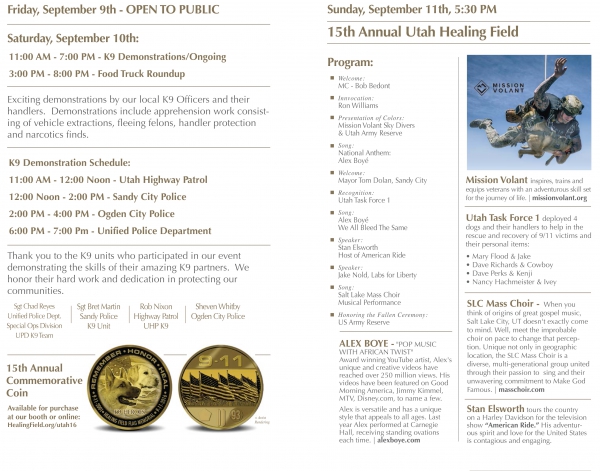 - September 8, 2016 /PressCable/ —
More than 3,000 flags will fly in a solemn formation in front of the Sandy City Hall honoring the victims of the 9/11 terrorist attacks as the Utah Healing Field® continues an honored local tradition. Posted at 10000 Centennial Parkway annually since 2002, which commemorated the first anniversary in 2002 of the 9/11 events. On September 8th, volunteers will meet at 5:30 p.m. on the lawn of the promenade south of the Sandy City Hall to post the flags.
This is a time to honor service men and women killed since 2001 as well as all Utah fire, police and front line responders killed in modern times in the separate Utah Fallen Flag Field.
This year's event is filled with exciting and memorable activities saluting K-9 heroes. The Healing Field® display will be open to the public beginning on Friday, 9 September, and all are welcome without charge. Come support those who serve locally in the state and abroad.
On Saturday, 10 September—the schedule is full beginning with K-9 demonstrations by local police forces from 11:00 a.m. until 7:00 in the evening. The Food Truck round up will be on hand with wonderful food choices from 3:00 to 8:00 p.m.
Sunday's program begins with a presentation of colors by the Mission Volant Sky Divers and the Utah Army Reserve. Renowned vocal artist, Alex Boye, will perform and Stan Elsworth, the host of television's American Ride will address those gathered. The Salt Lake City Mass Choir, a diverse multi-generational singing group, will also perform.
Funds raised through business sponsorship and the sponsoring of individual flags displayed will benefit Labs for Liberty in their programs supporting returning wounded warriors.
The display will be open until Monday, 12 September. Please support and visit this amazing, colorful and worthwhile event. Visit the website at www.healingfield.org/utah16
Release ID: 131403