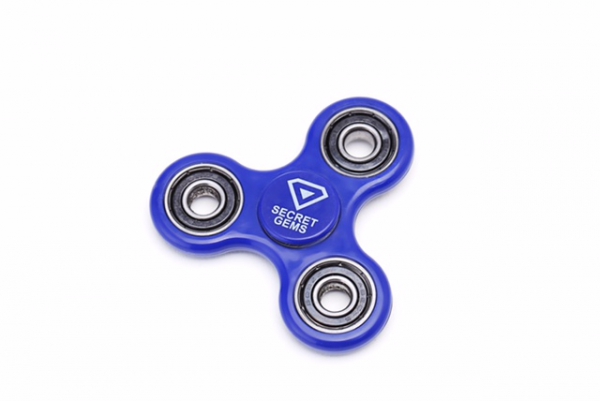 - May 18, 2017 /PressCable/ —
Orlando toy company Secret Gems announced a new ceramic bearing fidget spinner created to help users relieve anxiety and stress, improve concentration and offer various other social and psychological benefits.
The increasingly fast pace of the modern world has led to stress being one of the most pressing problems, with a variety of health issues commonly associated with psychological strain. Job insecurity, lack of social interaction, excessive working hours have all led to a prevalence of stress, especially in hyperactive urban areas.
Both children and adults suffer from such modern conditions, as the multitude of entertainment sources and high-engagement distractors have increased the prevalence of conditions such as attention deficit disorders, concentration issues, restlessness, and others.
In this context, it is not surprising that the popularity of anxiety- and stress-relief products have grown significantly. Fidget spinners, small finger-spun plastic toys, are now enjoying growing popularity with both adults and children looking for a pleasant way to alleviate stress and improve concentration.
Secret Gems announced an improved version of the fidget spinner, featuring a ceramic bearing for increased spin times, as well as improved handling and accessibility.
The typical spin time of a fidget spinner is under a minute. However, due to the ceramic bearing and the special design, the Secret Gems spinner offers spin times of over three minutes.
Due to its reduced size, the spinner can be used in various situations, including at home, in the office, in restaurants and other public places. The social popularity of this type of products allows both children and adults to join fidget spinner clubs and enjoy a non-violent, relaxing social activity.
Finally, the fidget spinner can be used to develop basic motor skills in very young children while also engaging them in a pleasant whole-family activity.
Interested parties can find more information by visiting amazon at the link below where a 100% Money back Guarantee is backed by Amazon.
https://www.amazon.com/Spinner-Fidget-Anxiety-Boredom-Stress/dp/B06XXJQFNG
Release ID: 199391