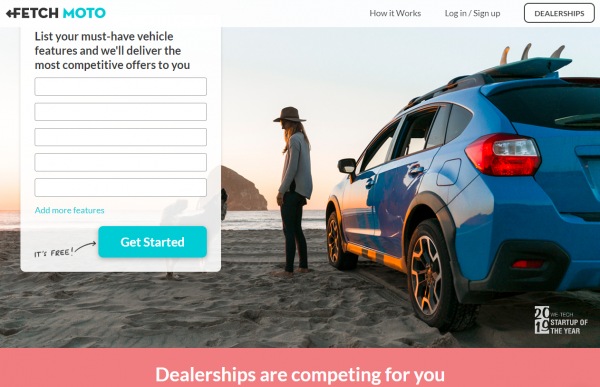 - November 13, 2020 /PressCable/ —
Get the best deal on your next vehicle without negotiating
Windsor, Ontario, Canada: Today, Fetch Moto launched the first version of their full-featured product. Fetch Moto helps vehicle buyers easily get themselves the best possible deal by conducting a reverse auction amongst auto dealerships. Consumers simply define the must-have features they want in their next vehicle and Fetch Moto sends a bid request to all the sellers in the consumer's region.
Additionally, consumers themselves can invite vehicle sellers from anywhere online to send them a competitive offer. When sellers make an offer, they are able to see all the other competitive offers from other sellers which keeps their offers competitive and results in lots of great offers in one central area for consumers to compare.
This process saves consumers an average of 89 days spent in the market and 15 hours typically spent shopping and negotiating. It's the perfect tool to use during a pandemic as it helps consumers get the best deal from home without having to visit dealerships or private sellers homes to negotiate.
"It's a great time to launch since our tool helps consumers stay safe while still getting themselves the best deal." says Jesse Thompson, CEO at Fetch Moto. "Listing websites really don't save people time or money and they don't lead to a better buying experience. Fetch Moto does. You can easily get yourself the best deal on a vehicle you love without having to search through multiple listing websites or negotiate with multiple sellers. It's the fastest and easiest vehicle buying experience and people are already loving it."
Features and benefits of Fetch Moto include:
– The fastest possible way for consumers find the best deal on vehicles they love
– A central area for consumers to compare the most competitive offers from multiple sellers
– Better quality leads to help dealerships improve their conversion ratios and overall sales volume
Fetch Moto will be available starting October 27. It's completely free for consumers. Dealerships can send their first 5 offers for free. After that, dealerships can buy high quality leads in small batches or through an unlimited monthly or annual subscription – which Fetch Moto guarantees will pay for itself or it's free. To get started, visit www.fetchmoto.com.
About Fetch Moto: Fetch Moto is the first online marketplace that enables vehicle buyers to conduct a reverse auction amongst dealerships in order to get themselves the best deal without shopping or negotiating. Visit the website here: https://www.fetchmoto.com/
Release ID: 88983227