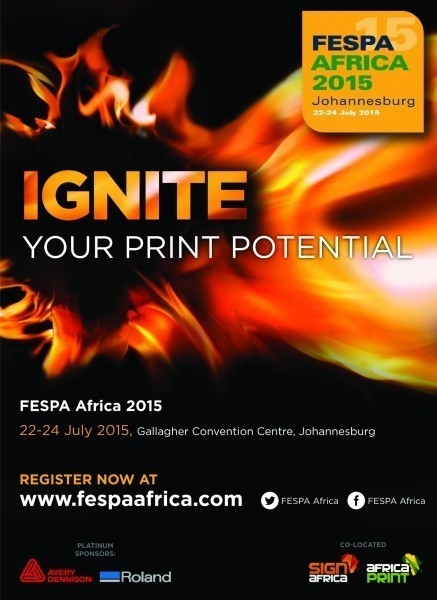 - June 23, 2015 /PressCable/ —
FESPA
Africa and Sign Africa will be a hive of inspirational activity from 22-24 July at the Gallagher Convention Centre, Johannesburg. In line with FESPA's profit for purpose business model, the show will provide a range of educational touch-points that are designed to invigorate print solution providers and sign-makers; giving them free access to a variety of topics and deliver insight on the latest technologies, trends and business opportunities.
"The message at the heart of this year's campaign has been 'Ignite your print potential'. FESPA Africa provides industry professionals – printers and sign-makers – the prime opportunity to reflect on their business. The event enables the community to see and experience the latest technologies live in action, as well as hear about industry developments and trends within our array of educational features", said Lorraine Harrow, FESPA Marketing Manager. "Attendees are sure to be invigorated and excited not only by the products on display from exhibitors but the information in the seminars and workshops at the expo. A visit is sure to enhance their company service offering and boost future growth."
Attendees will be able to take advantage of the full programme of innovative and thrilling features available, most free of charge, so that they can take away ideas and knowledge to apply to their business.
PRINTING SA AFRICA CONFERENCE – THE FUTURE OF PRINT IN AFRICA
A two day conference, taking place from 22-23 July 2015 at the Gallagher Convention Centre, is a dedicated event to source the latest industry information, gain insights into market knowledge and be inspired by leading industry professionals. Themes which will be covered include: business aspects such as investment, training and management; future trends and opportunities in digital printing; networking and more. Attendees also have plenty of time to visit the FESPA Africa, Sign Africa and Africa Print expos. Printers and sign-makers can find out more about the conference and reserve their delegate place online at www.printingsa.org.
EXTREME SPEEDWRAP CHALLENGE
Participants will be able to take part in the annual Avery Dennison/Roland Speedwrap Challenge, which will take place daily on the exhibition floor. The community is invited to enter the competition where they can compete alongside peers in a race against the clock to wrap a vehicle door to the best standards. Individuals are competing to be crowned the ultimate wrap-off champion, with an array of prizes, including the first place winner gaining a trip to FESPA Digital 2016 to take part in the FESPA World Wrap Masters Grand Final for the global title. For more information and to enter, visit www.fespaafrica.com.
IGNITE T-SHIRT & SCREEN PRINT WORKSHOP
This garment feature will be a hands-on workshop where printers can learn different techniques to decorate garments, from heat transfers, direct-to-garment (DTG) and screen printing applications including discharge and special effects, all taught by t-shirt print guru, Charlie Taublieb. With over 38 years in the industry, Charlie has experience in all aspects of the industry from designing facilities to solving technical problems. Garment specialists who attend the expo are encouraged to visit the stand to gain fantastic tips on how to improve and enhance their garment decoration techniques. The workshop is open to all without prior reservation.
IGNITE TECHNOLOGY CONFERENCE
The theatre will be host to several seminars per day exploring different industry themes and topics from colour management and workflow, to looking at future trends in digital wide format print. The programme will be filled with industry specialists and manufacturers covering technical know-how, trends and market opportunities, as well as sessions on technologies. Within the programme is the 'IGNITE DAILY DEBATE' where attendees can 'explore the issues' and take part in an interesting discussion on specific topics and pose questions to the expert panel. No reservation required, visitors can simply show up and gain their seat!
IGNITE RIGID PAPER BOARD COMPETITION
The Rigid Paper Board Competition, supported by Graphix Supply World, returns to recognise excellence in point- of-purchase displays, in-store communication, and other imaginative displays using rigid paper board. The entered pieces being judged at FESPA Africa for the title 'Best Overall Display of the Year'. Find out more and enter at www.fespaafrica.com.
Release ID: 85061