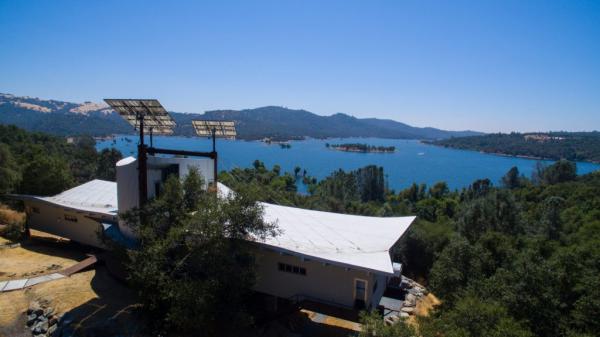 - May 15, 2019 /PressCable/ —
NEWCASTLE, CA – Known as "The Shipwreck House," this Green-inspired home is in an 'Urban Wild-land Interface Zone' and as a result is constructed of non-combustible materials.
The name evokes the mysteries and wonder of nautical adventures that serves as the innovative backdrop for the creation of this architectural marvel. This custom designed home was crafted after the serpentine flow of the surrounding Sierra foothills landscape.
Spanning 3802 square feet, 3599 Hector Road features an open floor plan with three bedrooms, three bathrooms and a 1782 square foot cable-suspended deck and lap pool with a spa at the main level. At tree-house level, the property also includes an 80 square foot deck.
Boasting spectacular lake and mountain views, this house pushes the limit of green technology using architecturally incorporated dual axis tracking arrays. The house is currently grid-interconnected and selling power every sunny day with an annual credit balance.
Also found within this property is a custom-made, crescent shaped stainless-steel kitchen with built-in sink, and five built-in burners with grates set flush to the counter-top surface for safe handling of large pots. This built-in cooktop is just one of the extremely unique aspects of this home.
Additional features include a serpentine-twisting roof, which is constructed to collect rain water with a possible storage capacity of 12,000 gallons.
A detached three-car garage with a detached studio guest house that occupies 633 square feet and includes a full bath and deck.
More information, along with photos of the property, can be found through its website at https://3599hector.com/.
"I am fortunate enough to see some amazing houses and this one is truly is one-of-a-kind. Whether it is the views, the aesthetics or the little details, there are so many aspects that make this property a hot commodity," said Cliff Keith, the property's listing Realtor. "Years in the making, this is a house unlike any on the planet."
With a listing price of $2,850,000, the home can also be found on the MLS under the MLSListing number, ML81684919.
Cliff Keith (DRE #00605874) and his team have been helping home-buyers and homeowners since 1976. Noted for their knowledge of the real estate industry and their ability to relay that information to clients, they tend not to be a hard-sell team and respect the ability of their clients to make their own decision based on what is best for them.
For additional information on the property or to express interest, contact Cliff Keith on his mobile phone at 650-346-7366 or via email at cliff@sfbayhomes.com.
Release ID: 512537