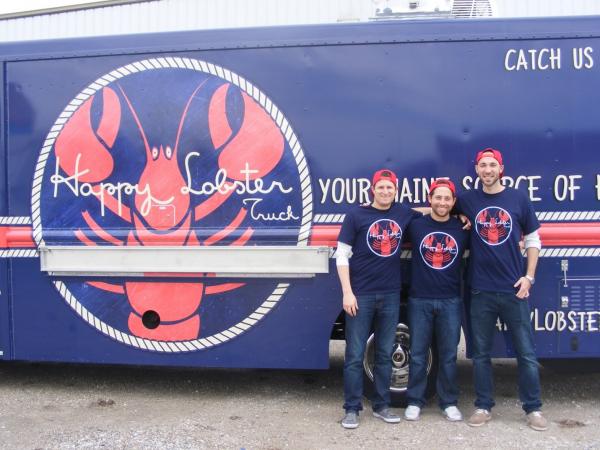 - June 18, 2019 /PressCable/ —
An attorney-father and social media marketer son left their dream jobs by switching gears and opening a food truck together called The Happy Lobster in the Chicagoland area. Centrust, a local Chicago Business Bank, supported this father-son duo's plan; they helped it become a reality by providing them with a conventional equipment loan in order to finance the truck, equipment, and other supplies necessary to successfully operate.
The Happy Lobster provides unique lobster fast food options for seafood lovers of all ages. Prior to receiving conventional financing, they did not yet own a food truck, which was necessary for spreading their delicious eats to numerous regions of Chicagoland area. After taking out a conventional equipment loan with Centrust Bank, the duo was able to purchase the truck, cooking appliances, and refrigeration, while still meeting the requirements of the state of Illinois. Because of Centrust's financial assistance, they've become one of Chicagoland's food truck favorites, featured as Chicago's Best Food Truck by The Chicago Tribune, Top 25 Lobster Rolls in America according to Yelp and Buzzfeed, Best Alternative Dining by the Jean Banchet Awards, and more. They have since expanded by acquiring a second truck and offering caterings services to hospitals, street fairs, businesses and more.
Because of Centrust Bank's various conventional financing options for business owners of all needs, they support entrepreneurs and business owners of vastly different backgrounds. Commercial Lender Ica states that "when aspiring business owners come to us with an idea, we support them. Nothing is more rewarding than seeing dreamers become achievers."
Equipment Lending Successes
According to Fundera, small business startups spend anywhere from $10,000 to $125,000 on equipment. Centrust Bank understands that many business owners do not have enough capital to make such costly purchases in the beginning stages of owning a business. Having the right equipment to meet the needs of the business is essential to its operations and success, which is why Centrust offers various conventional financing options to suit the needs of business owners from all backgrounds.
Centrust offers conventional financing for equipment, which has led Centrust Bank to be one of the area's top-performing banking companies. They are the go-to bank for Commercial Banking services and succeed by building relationships with business owners. Together the Bankers and clients of Centrust Bank have created a strong, growing and successful Community Bank with exactly the bank credit and deposit services required by the residents and business owners of the Northshore communities that we are ideally located to serve.
About The Happy Lobster:
Food is about so much more than the act of eating. It's about grabbing lunch with a co-worker or catching up with a friend. It's about trying new things. And, of course, it's about enjoying a terrific meal. The purpose of the Happy Lobster Truck is to bring people happiness through great food. From the end of the line to enjoying your lobster roll, from dining at our truck to interacting with us on social media, we always do our best to put a smile on your face.
The Happy Lobster's job is to bring you the best, freshest lobster in Chicago. The lobster they serve is caught fresh every day in Maine. Their bread is baked fresh every day in Chicago. They are confident in their ability to do their job.
About Centrust Bank:
Originally founded in 2006, Centrust bank has quickly grown to become a leading Chicago area community bank. As a model of community banking, Centrust Bank pays special attention to helping small to mid-sized businesses grow safely and profitably. Centrust is also one of the largest SBA lenders in Illinois.
Whether it's a small or mid-sized business, Centrust Bank provides financial solutions such as SBA lending to entrepreneurs that are looking to acquire and grow their business. To learn more or to contact Centrust Bank, take a look at their website here: www.centrustbank.com
Centrust Bank is an Equal Housing Lender. Member FDIC.
Release ID: 525498