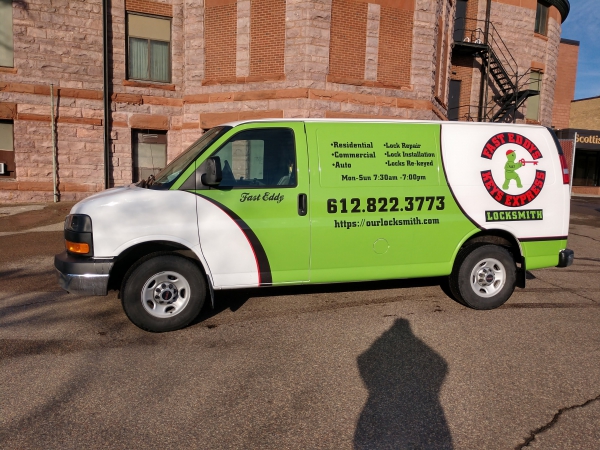 - January 21, 2018 /PressCable/ —
Fast Eddys Keys Express, a leading full service Minneapolis locksmith company is dressing up their mobile fleet with a new look. "We wanted our vans to reflect the same professional skills we employ day in and day out of the job," says owner Eddy Mann, better known as Fast Eddy.
"We have been providing expert locksmithing service to Minneapolis and the near suburbs for over 30 years," he continues. "Until recently we never had to worry about how we were perceived. Unfortunately, the field has recently been swarmed by fly by night scammers who have infected the local market with bait and switch advertising on Google and other social media outlets."
The new vans help establish the firm's credibility and also serve as an excellent marketing tool.
"We do a lot of work in Edina, for example," says Eddy. "When neighbors see our van in their area, they immediately identify us as Edina Locksmiths." "Same with Richfield, Bloomington and St Louis Park – the other communities where we specialize in addition to Minneapolis proper."
Fast Eddy Keys Express has served these areas since 1985. They offer lock out service including building lockouts and vehicle lockouts. They do routine lock work including the re-keying of locks, as well as install door and security hardware. One aspect they are proud of is their willingness to repair hardware.
"Many locksmiths will try to talk customers into buying new locks," Eddy maintains. "We prefer to offer our customers the option of repairing a lock when it make sense." "That saves them money and wins us a long term positive customer relationship."
That attitude appears to have paid off for the firm. They have a 4.8 star rating with over 175 reviews from satisfied customers on Google, and many more on Yelp! and other review sites.
They offer additional services as well, from safe cracking to installing and repair door openers as well as setting up key management systems for apartment buildings and offices. They serve both residential and commercial clients.
"In my three decades plus of locksmith work, I have seen many changes. But one thing has remained constant. People want to be secure in their homes, and places of work, and unfortunately, there seems to be a never ending flow of those who would do them harm."
"We are a people business and do our best to help prevent tragedy." "Unfortunately too many people call us after an incident," Eddy complains.
"We will do a security checkup for homes and businesses. We wish more people would take us up on that."
"We considered adding the proverb, 'An Ounce of Prevention Is Worth a Pound of Cure' to our vans, but decided against it finally," Eddy said.
Fast Eddys Keys Express offers their services 7 days a week from 7:30 AM to 7:00PM.
Release ID: 290130