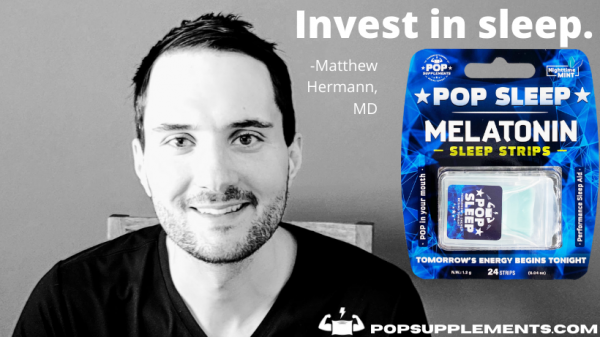 - June 23, 2021 /PressCable/ —
POP Supplements have launched the POP Sleep Supplement, a fast-acting melatonin sleep aid. The formulation of the mint-flavored soluble oral supplement was inspired by founder Dr. Matthew Hermann's experience working night shifts as a physician in correctional facilities during his medical training.
More information is available at https://popsupplements.com
The new sleep supplement strip helps people enjoy restful sleep even under stressful circumstances. POP Sleep is absorbed into the body about an hour earlier than typical sleep supplements. It is assimilated more quickly because unlike other products it does not require digestion and absorption through the intestine, a process that slows and limits bioavailability.
Melatonin is metabolized by the liver leaving only around 15% of the original dose available for the body's use. POP Sleep comes in the form of a thin dissolvable mint-flavored strip absorbed immediately through the action of saliva in the mouth. Melatonin moves quickly through the blood-brain barrier, enabling it to work faster than traditional tablets and capsules.
POP Supplements aims to help people change their overreliance on caffeine as a source of energy through the day by making a deep and restful night's sleep available to all. Melatonin, also known as the sleep hormone is manufactured by the pineal gland, but that function is known to decline with age. It is also inhibited by factors in everyday life such as stress, endocrine disruption, poor sleep hygiene, blue light after dark, and subsequent disruption to the body's natural circadian rhythm.
Each POP Sleep Supplement strip contains 1.5mg of melatonin, a dose considered optimal to enabling a good sleep without the side effects associated with higher doses. POP Sleep also contains Vitamin B6, a complementary co-factor for melatonin production.
Dr. Matthew Hermann is a physician whose personal experience of managing sleep during night shifts while working in correctional facilities inspired him to develop a product to enable a good night's sleep. Part of the proceeds from POP Sleep go to One Life Fully Lived, an organization that helps current or former inmates affected by the prison industrial complex lead better lives before or after re-joining society.
Dr. Hermann says, "We stand behind our product and will issue a 110% refund if it does not work for you. But this is not just about helping people sleep. One of our goals is to improve the lives of those incarcerated to benefit not only themselves but society. Our goal in 2021 is to help at least one former inmate live an abundant life."
Those interested can learn more at https://popsupplements.com
Release ID: 89030323