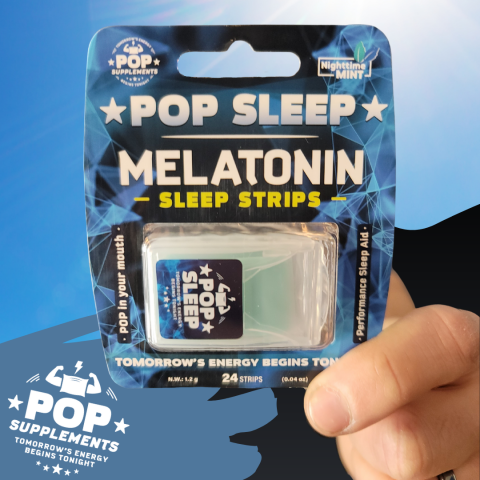 - June 10, 2021 /PressCable/ —
POP Supplements announces the updated formulation of its flagship sublingual sleep aid. The POP Sleep Aid is readily absorbed in the body and can promote sleep within a few minutes. The supplement is recommended for those suffering from insomnia or people who do not get restful sleep.
More details can be found at https://popsupplements.com.
The updated formulation improves the flavor and bioavailability of the supplement. POP Sleep Aid is a mint-flavored thin dissolvable strip that offers noticeable results in only a few minutes. Unlike other sleep aids, the supplement does not have any negative side effects and is non-addicting.
According to the Centers for Disease Control and Prevention (CDC), around one in eight adults in the United States use some type of sleep aid. Still, experts suggest that this number is expected to increase, especially during the current health crisis that has negatively impacted the mental health of people.
POP Sleep Aid was inspired after its founder, Dr. Matthew Hermann, MD, worked nights for extra money as a physician. Dr. Hermann was still working a normal day job and needed a natural and effective sleep supplement to help him remain healthy. He then decided to research how sleep works and the ingredients that promote it, eventually creating his flagship product.
The new sublingual sleep aid uses the latest technologies to ensure potency and efficacy. Most sleep aids need to travel down a person's intestines before being absorbed into the body. This process can take up to an hour in a normal healthy adult, by which time most melatonin is already metabolized.
POP Sleep Aid immediately dissolves under a person's tongue, which is filled with countless nerve connections. By the time a person tastes the mint flavor of the strip, their brain is triggered to feel sleepy.
The sublingual melatonin supplement may also decrease caffeine dependency. Because it allows for natural, restful sleep, the supplement helps users feel energized throughout the entire day, which may lessen their need for caffeine.
POP Supplements also helps incarcerated inmates live productive lives through its CSR program.
Interested parties can find more information at https://popsupplements.com
Release ID: 89026694