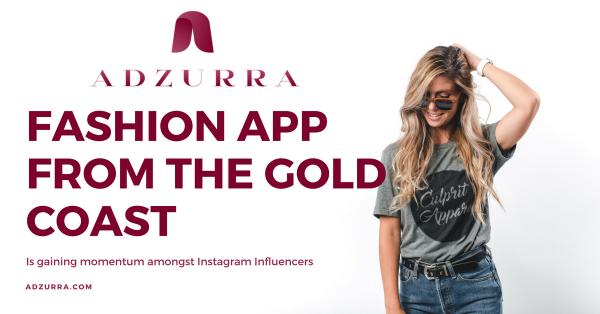 - May 30, 2018 /PressCable/ —
A new app to be launched on the 30th of July 2018 aims to revolutionise the current shopping experience. The app named Adzurra connects users around the world to the best fashion brands on social media in the quickest way possible.
Adzurra has already gained momentum amongst Instagram influencers on the Gold Coast with the likes of Rosanna Arkle, Skye Wheatley and Michaela Wain, attending their exclusive pre-launch on the 27th of July this year.
Law graduate and CEO of Adzurra, Sharine Duran founded the app when she saw a gap in the market.
"Before my holiday to Greece last year, I was struggling to find the perfect Brazilian bikini online. At that time, everyone was heading to Europe for the summer and so I followed Instagram influencers to see what they were wearing" she said.
"However, it was very difficult to find swimwear boutiques unless you followed the brand already or if you followed an Instagram influencer who promoted their products. That's when I realised that a platform was needed to showcase all the trending brands and products on social media."
Adzurra is an image-based app that helps users find the latest fashion brands, trends, and designs on Instagram. Simulating an online shopping centre, users can download the app for free and browse through an array of options from activewear, skincare, or streetwear. A key feature on the app is the location feature, which enables users to discover fashion brands in different countries and cities.
The app allows each online fashion boutique to showcase their most popular products, store locations, Instagram feed, return and shipping policy as well as their promotions. This enables users to have a quick look at every brand's profile and see the best bits from them rather than scroll through an entire website.
Chris Rodgers, the Chief Operating Officer of Adzurra stated that "Adzurra exists to connect everyday people to brands they love on social media and to discover more to fall in love with."
"It's extremely challenging to present a niche product that's never been done before into a market because we didn't know how people would react. However, we have 66+ brands (and growing daily) already onboard from all over Australia and we have already penetrated the international market. Everyone has been super supportive of the product" he said.
Adzurra will launch on Google Play and the App store on July 30, and will be holding their exclusive pre-launch party at the Gold Coast Photo Studio on July 27. Their guest list is already firing up with over 20+ Instagram influencers from Brisbane and Gold Coast already confirmed to attend.
Learn how you can win VIP Access to the launch by subscribing to their mailing list at www.adzurra.com.
About Adzuzza
Adzurra is the leading discovery platform to find the latest fashion designs, trends, and brands on Instagram. It aims to connect users to a wide array of fashion brands and online fashion boutiques from all over the world as quick and seamless as possible. Founded in 2017, Adzurra is the brainchild of 23-year-old CEO and Law graduate, Sharine Duran.
Contact
Email: chris@adzurra.com
Phone: 0490 705 646
Address: Suite 34, Level 1
The Pegasus Centre
42 Bundall Road, Bundall QLD 4217
Release ID: 352984