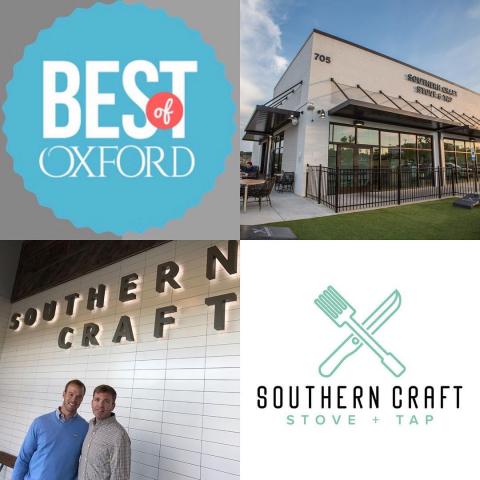 - January 29, 2020 /PressCable/ —
In Oxford, MS, there are very few options for a farm-to-table restaurant near me, without driving outside of town.
The farm-to-table concept is about serving locally produced foods, not something trucked in from the other side of the country. Ingredients are sourced from a restaurant's garden or local growers, farmer's markets, co-ops, or other local providers.
Southern Craft Stove + Tap is a conveniently located farm-to-table restaurant that is committed to enriching the Oxford community.
Located at 705 Sisk Avenue, Suite 111, the casual space features Southern-focused, fresh, unprocessed food and beverages, including local craft beers.
Owner Griffin Tanner welcomes anyone looking for a farm-to-table meal to stop in and give it a try. "We have a passion for serving our guests unprocessed, fresh food made with traditional cooking methods," said Tanner. "As members of the community, we want to provide healthy and delicious food with a Southern twist."
While farm-to-table started as a trend, it has become mainstream in many large cities throughout the country. However, in smaller cities and towns, finding fresh, unprocessed food in a restaurant is still difficult.
Intending to serve healthy, high-quality meals, Southern Craft focuses on seasonal and fresh choices in soups, salads, and small and large plates.
Diners can order from a variety of unique pizzas, sandwiches, and side dishes. There is enough variety to meet everyone's needs and desires.
Tanner adds, "We live here in Oxford and our passion is serving high-quality, natural Southern-based food to our friends and neighbors. We welcome everyone to join us."
Restaurant hours are Tuesday to Saturday from 11 a.m. to 9 p.m. and Sunday from 11 a.m. to 3 p.m. The restaurant is closed Monday. Bar hours reflect city ordinances.
Southern Craft Stove + Tap shows its craft and passion in everything they do. Choose a local farm-to-table restaurant conveniently located within the city limits of Oxford, MS.
ABOUT Southern Craft Stove + Tap
In 2017, Southern Craft Stove + Tap started in Oxford, MS, cultivating an atmosphere the whole family can enjoy. We offer a high-quality selection of cuisine and libations unique to both Oxford and Tupelo.
We are family-friendly, and both locations have private dining spaces for large groups and events.
Contact:
Griffin Tanner, Owner
Southern Craft Stove + Tap
662.234.6007
info@southerncraftstoveandtap.com
Release ID: 88944455