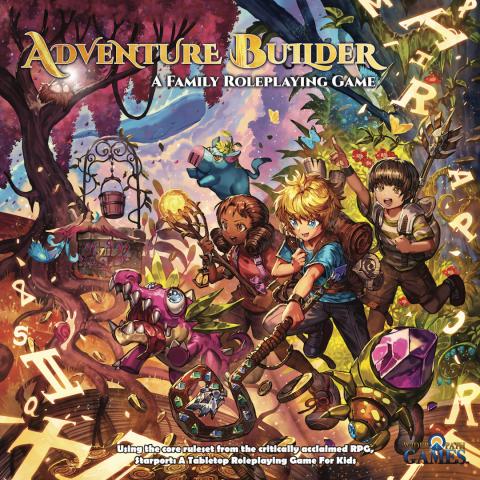 - June 29, 2021 /PressCable/ —
Wider Path Games, producer of family-friendly tabletop roleplaying games, has announced the launch of its latest product: Adventure Builder. The game is available for pre-order now and is expected to ship to customers in September 2021.
More details can be found at: http://www.widerpathgames.com/adventure-builder.html#
Focusing on shared story-telling and suitable for all ages, the recently announced roleplaying creation from Wider Path Games was designed in response to the lack of high quality, child-friendly games that do not contain violence.
Tabletop roleplaying games (TRPGs) have existed for over 40 years and are said to have roots in earlier wargames and centuries-old strategy games such as chess. Participants in TRPGs usually gather in a social setting, where they describe the actions of their assumed characters and a game-master describes the outcome.
Most famous for military-oriented games such as 'Dungeons and Dragons', the popularity of TRPGs has waned in more recent years with the advent of digital technology. However, with Adventure Builder, the developers at Wider Path Games have recognized an opportunity to provide families with a shared, social experience that also has educational value.
While for younger participants the new game is designed to be fun and entertaining, Adventure Builder has been developed with content that reinforces what children might be learning at school. A number of target topics, sentences structures and vocabulary are included in the material, providing parents with an additional resource for their children's learning.
Funding for the production of Adventure Builder was sought through Kickstarter, and was completed on May 6, 2021. Prior to that, the new game underwent a detailed design and development process that took over 18 months.
With a range of print-and-play files already available for purchase and download on the Adventure Builder webpage, Wider Path Games have also announced a series of puzzles hidden within the pages of the Adventure Builder books. Known as the Adventure Builder Easter Egg Hunt, Wider Path Games is offering a $1,000 prize for the first person to solve the puzzles, in celebration of the new game's launch.
Kevin Ferrone, the founder and lead game designer at Wider Path Games stated: "Nothing is more powerful than getting a family around the table for an immersive shared storytelling experience. Our games make it easy for families to do this, even if they have never played tabletop RPGs before."
Interested parties can find more information by visiting: http://www.widerpathgames.com
Release ID: 89031887