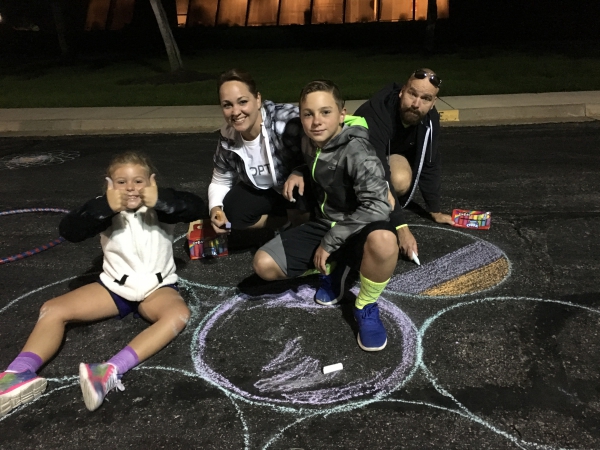 - September 5, 2017 /PressCable/ —
Blue Valley Physical Therapy has announced it will be hosting the 11th annual Paulina Cooper Dot-to-Dot Run/Walk to raise funds for pediatric brain tumor research, taking place on Sunday, September 17th, 2017 in the Corporate Woods, Overland Park, Kansas. Blue Valley Physical Therapy will again be hosting the annual Paulina Cooper Dot-to-Dot Walk/Run to raise funds for the Rory David Deutsch Foundation.
More information is available at http://dottodotrun.org.
The Annual Dot-to-Dot Walk/Run is a community family event organized and hosted by the outpatient physical therapy and rehabilitation clinic Blue Valley Physical Therapy, since 2007, to honor the memory of Paulina Cooper, who lost her life to intrinsic brainstem glioma, at the young age of 5.
This event is tailored for both the serious runner, with its 10K run which is part of the Heartland 30K series which challenges runners to complete (3) 10K races in 3 weeks, and for walker participants just looking for a fun family day, featuring a 5k walk, a Dot to Dot trot for children 8 years and under, prizes, and a free community kid's carnival with many fun family activities. "This is just an amazing event. It is more than just a race. You have a group of people that decided that they are going do something, to come out to Corporate Woods early on a Sunday morning to honor those lost to cancer and support those still fighting the good fight," says Ryan Klusman volunteer.
This race is a celebration to continue Paulina's legacy of love, union and connection, with money raised going to the Rory David Deutsch Foundation, whose mission is to eradicate pediatric brain tumors and other devastating childhood diseases, and to make a difference in the lives of afflicted children and their families.
"Paulina Cooper was outgoing, fearless, giving and had an amazing ability to connect. Through 13 months of radiation and chemotherapy and clinical trails she remained brave, peaceful, comforting and wise. She left this world on September 21, 2004 and she is our hero. Her ability to connect, we believe was her life's purpose. This is why we named the race the Dot-to-Dot race", said Ann Todd Cooper, mother of Paulina. All money raised goes to the Rory David Deutsch Foundation which focuses on aggressive pediatric brain tumor research.
Everyday 9 children are diagnosed with brain tumors and face still poorer survival rates than breast cancer patients. "We need your help in getting the word out, that we need to find a cure for aggressive brain tumors. Please join us," Ann Todd Race Coordinator.
This years Dot-to-Dot race will be recognizing Alexis Ashmore with the 2017 Pegasus Award. Little Alexis has a brain tumor growing on her hypothalamus, which doctors say can never be safely removed. Alexis' journey can be followed on https://www.facebook.com/pg/littlealexisjourney
More information on how to register for the 11th Annual Paulina Cooper Dot to Dot Run/Walk, donate to pediatric brain tumor research, or to sponsor the event, along with details of Paulina Cooper's story, and the race location or course map as well as the multiple race day activities and prizes can be found on the website link provided above.
Release ID: 233892