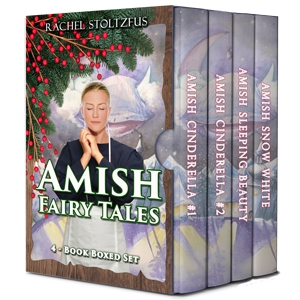 - January 6, 2016 /PressCable/ —
Amish book lovers searching for one of the best Christian books series can purchase the Amish Fairy Tales Collection by Rachel Stoltzfus as Global Grafx Press's Family Christian Bookstore January 2016 Book of the Month. This is a collection of Books 1-4 of the bestselling Amish Fairy Tales Series series.
Rachel Stoltzfus' Amish Fairy Tales Collection begins with Amish teen Ella who must find the strength to fight for her future with her love, Samuel, in the face of treachery, violence, and a shocking tragedy that threatens everything she's ever wanted. In Amish Sleeping Beauty, when orphaned teen Zelda's beloved aunt is stricken by a mysterious illness, Zelda must find a way to save her family while facing the possibility that she is cursed. Lastly, in Amish Snow White, when Amish teen, Gerta is reunited with her beloved sisters, readers will ask if she have the strength to step out from her uncle's shadow and forge her own path before it's too late.
Readers can learn more about the Amish Fairy Tales 4-Book Boxed Set Collection here: http://familychristianbookstore.net/index.php/2016…
Amish author, Rachel Stoltzfus strives in her fiction to present a fair and honest representation of a love that is both romantic and sweet. Christian readers will find this book whimsical, absorbing, and ultimately charming.
Readers have raved about Rachel Stoltzfus's Amish Fairy Tales Collection.
About the Amish Fairy Tales 4-Book Boxed Set Collection, Amazon reader, Macy Jackson, says: "I loved this series. It was nice to have the option to get all the books at once so you can read them one after the other!"
Another Amazon.com reader, Myrtle Davidson raves, "The author kept you on your toes waiting to see what would happen next. I loved this series. Romance, mystery and everyday life."
And a third reader, Charlotte Berkner, says this about her experience of the book, "I really enjoyed reading the four stories. Look forward to reading more of Rachel Stoltzfus. I would recommend her work."
Readers can learn more about Amish Fairy Tales Collection here: http://familychristianbookstore.net/index.php/2016…
The Amish Fairy Tales Collection is being offered $5.99 in eBook format on Kindle, Nook, iBooks, Kobo, Page Foundry and 24Symbols and for $19.99 through CreateSpace and Amazon.com.
About Global Grafx Press:
Global Grafx Press was founded in 1997. This Christian book distributor is known for publishing great Western romance novels and Amish authors as well as Western Historical fiction. They are committed to helping Christian readers find the best, clean Christian books online and hope that their readers enjoy browsing their Christian Bookstore. Those interested in learning more about Global Grafx Press can do so at http://familychristianbookstore.net.
Release ID: 100546